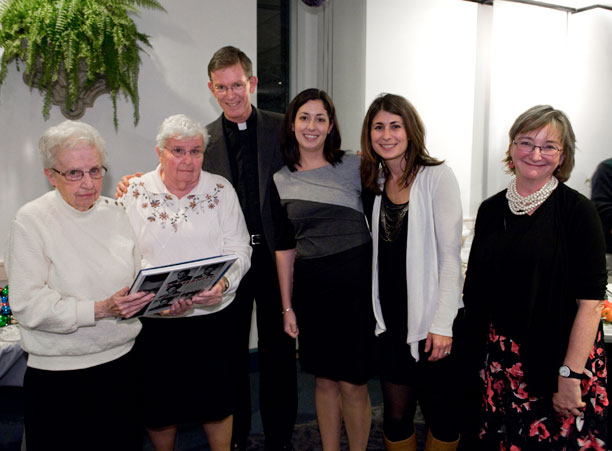 The holidays are quickly approaching and it's the time of year we are extra grateful for our family, friends, and colleagues. If you work in the media relations field you are always thankful and grateful for all the time spent by faculty and administrators providing background to reporters, conducting interviews, and fielding questions, especially after hours and in between busy class schedules.
That's why nine years ago, while Kristine and I were both working in media relations at the College of the Holy Cross, we started hosting a "Headliners Celebration" in December.
The guest list consisted of members of the College community (last year we invited more than 200 colleagues) who had participated in media relations initiatives throughout the year. The menu each year was unique, and included "newsworthy food." For example, a dish from a chef that had been featured in the local newspaper or an appetizer from the "Slow Food Movement" at Holy Cross that received national and regional media coverage.
The College's president kicked off the program thanking everyone for their efforts and then we handed out awards to faculty and administrators who helped to advance the image and reputation of the college through media relations. We'd start off with our Rising Star Award, then our Newsmaker Award and then the highest award of the evening was our Headliner Award.
It was a great way to thank our colleagues who go above and beyond on media efforts throughout the year. In addition, it was a great way to create buy in, continue to foster relationships and a way to get newer faculty and staff members involved. Since we always did a press announcement about new faculty hires, we invited them as a way to begin a conversation and show them how their media relations efforts could benefit their research or expertise and the College. We also invited people that helped behind the scenes: think the person that crunches all those rankings numbers or the communications person in a different department that helps you set up all those interviews.
An event like this is also a great opportunity to promote your department and its efforts.  A couple of years ago Holy Cross went through a brand refresh, and we decided to give out swag with the new college logo at the end of the evening.
And even though Kristine and I have both moved on to TVP Communications, I'm happy to say the tradition still lives on at the College, as it will celebrate its 9th annual Headliners Celebration tomorrow evening.  I'm proud to say they will also be adding a social media award this year, for departments or persons at the College who actively engage and promote the College through their accounts.
In 2015, The Council for Advancement and Support of Education's Currents featured the Headliners Celebration in its "What's the Idea" section "for recognizing faculty and staff members who participate in the institution's media relations efforts, which creates buy-in and gives people incentive to do more."
And while this is a great end-of-the-year way to thank faculty and staff for all they do media-wise, make sure you are maintaining those relationships all year round: check in over a cup of coffee each semester, go to department meetings and talk about the work your department does, enlist colleagues that you work with frequently in these efforts, AND just say thank you.
Photo: Kristine and me at the 2012 annual Headliners Celebration. For his work on the Fraternity campaign, the late Rev. John E. Brooks, S.J., earned the Headliner Award (posthumously), which is the highest recognition of the evening, and presented to individuals who have significantly advanced the image and reputation of the College through their contributions to national print, radio and television media outlets. Fr. Brooks' sisters accepted the award on his behalf.