This week, I had the unbelievable opportunity to be on the campus of Longwood University as they played host to the only vice presidential debate of the 2016 general election cycle.
I've really struggled to convey to colleagues and friends how amazing the experience was—there just aren't enough superlatives to describe what it was like to watch more than a year of work by the campus team pay off on the national stage. The energy and excitement on campus was beyond tangible, particularly among students and volunteers.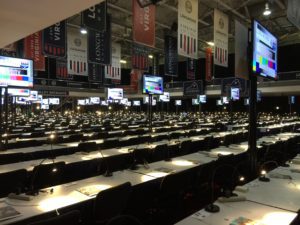 There are so many case studies Longwood could write about how to make the most of an opportunity like hosting a debate, but from my perspective, the biggest win was implementing a media strategy that ensured that the university wasn't just the location of the debate. Instead, the debate was integrated into a larger story Longwood wanted to tell about itself. This strategy paid off in story after story about the university's unique position in history and its focus on educating students for citizen leadership.
To experience a bit of the energy and pride of the Longwood community, visit their social media hub and live blog.
Congratulations, Longwood, on an amazing event!