One of the best things about the holidays (and really, any time of the year) is baked goods. Every year growing up, my siblings and I would pick out a new treat to try out for the holiday season in addition to traditional favorites—we chose fun-sounding cookies like spitzbubens and moose poop (I know, but oh so delicious), both of which are still among my favorite treats. And I've continued this tradition into adulthood—recent hits include salted peanut butter fudge, secret-recipe toffee, and lemon-glazed shortbread. I'm leafing through my cookbooks and scrolling through my favorite baking blogs to find this year's special treat (or two)—any suggestions?
If your favorite treat is a weekly serving of the latest in higher ed news, scroll down for more!
What's new this week:
College of the Holy Cross professor Mathew Schmalz weighed in on the Pope's recent historic letter on abortion in a Christian Science Monitor article.
Two professors from Drake University had pieces in The Conversation. Edward Bell cautioned against over-the-counter cough and cold remedies for children under 12; the article also ran at CNN and Slate, among other outlets. Jennifer Glover Konfrst weighed in on the future of journalism in Trump's America.
Our clients also had a double appearance in the November/December issue of AGB's Trusteeship. Governors State University President Elaine Maimon detailed GSU's efforts to help students complete college. Mary Kane, chair of the board of trustees at Mount St. Mary's University, offered lessons and advice on choosing a president.
Donald Brand, professor at Holy Cross, wrote a piece for Fortune on reforming—and renaming—Obamacare.
Congrats to Holy Cross alum and two-time Heisman Trophy finalist Gordie Lockbaum, who will be featured in ESPN's 30 for 30 Shorts series on December 5. The release of the documentary, "The Throwback," coincides with the 30th anniversary of his Heisman nomination. Coverage for the upcoming film includes a Boston Globe column and a segment on CBS Boston.
This week on Inside Higher Ed's Call to Action blog, it was all about branding—don't miss guest posts with tips on brand success in a micro-moment world and what framework for brand architecture works best for higher ed.
What we've been talking about:
Teresa lent her expertise to an Inside Higher Ed article on college presidents talking politics.
In light of all the about fake news being circulated, Ali reflected on what, exactly, makes something newsworthy.
Erin channeled her excellent bosses to offer advice and lessons to anyone in a leadership position.
What's next on our calendars:
Next week, Teresa will be heading to Orlando for AMA's 2016 Symposium for the Marketing of Higher Education. On December 6, she will be sitting on a panel, "The New Normal": Marketing and Communications in a Reactive Climate; and on December 7, Teresa will moderate the panel, The Marketer's Role in Building Diverse, Inclusive, and Equitable Campuses.
On January 7, Teresa will be conducting media training for the ACE Fellows mid-year retreat in San Diego.
Teresa will co-chair CASE's Annual Conference for Media Relations Professionals, which will be held January 11-13 in New York City.
What we've been reading:
Cristal Steuer
I was traveling this week, which meant some time alone with my Kindle. While I wanted to start a new book, I noticed that I had about five new magazines I hadn't read and since I'm hosting Christmas, I was looking for some new ideas. While I was reading Family Circle (I know, I'm turning into my mother), I came across an article titled, "20 Little Ways to a Happier Holiday Season." With the holidays always being such a busy time, the piece offers some great tips on how to slow down, such as actually taking a walk and listening to the sounds around you (not including your iPhone); and how to not overschedule and overextend yourself (just say no.). Oh and did you know JOMO (joy of missing out) is a thing now? And, probably my favorite bit of advice: binge watching your favorite shows without guilt is good for you (and there is research to back this!) If you are looking for something to binge watch, I'm currently obsessed with Prison Break. (And, just in time for a new season.)
Ali Lincoln
I know that it's not technically even winter yet, but I'm already thinking about the spring! My seed catalogues from places like Seed Savers Exchange and Southern Exposure Seed Exchange have started arriving, and one of my favorite things to do when it's chilly outside is plan my next garden. I tend to get a little carried away (last year I ordered a mix of 17 types of lettuce—no joke) and so I've got some leftovers from last season. But I've got big things planned for 2017, including finalizing my formal herb garden, moving my vegetables beds, and expanding my pollinator gardens, so I'm breaking out my highlighters and graph paper this weekend!
Erin Hennessy
To fit in with our very bookish theme this week, and because I'm super tired after nearly a full week of travel, I'm sharing this piece about a hostel in Japan that boasts a bookstore theme. Guests can lounge around on sofas with one of the hostel's more than 5,000 books and sleep inside a bookshelf (inside a bookshelf!). Please, won't someone open a Book and Bed in the U.S.?
I missed this in the Thanksgiving run up (my personal email inbox is stuffed full of unopened newsletters), but Buzzfeed recently asked 16 authors about the books for which they're most grateful. Many of these recommendations are new to me so I'll be adding them to my (ever-growing) "to be read" list.
Teresa Valerio Parrot
In omnia paratus! I'm a big Gilmore Girls fan and I've spaced out viewing the first three of the recently released four-part series. My 15-year-old daughter and I have a pizza party planned for Saturday night to watch the finale episode together. Like so many other fans, I loved that the dialogue is witty and mixes in great pop culture and history references. And I've appreciated the many literary references. Erin shared this little gem with me a few weeks back—there is a quiz that lists all 339 books referenced in the original seven seasons of Gilmore Girls and allows you to tally how many you've read. I'm pretty proud of my total, but have no doubts that the rest of the TVP Comms team has me beat (especially Hennessy and Lincoln!).
Here's what else I'm watching… tonight is the PAC 12 championship football game and, of course, I'm going to be cheering on my Buffs. The rise is real! GO BUFFS!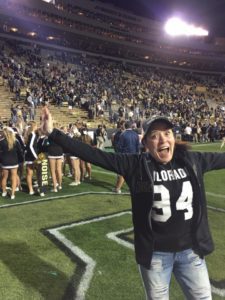 Kristine Maloney
It's that time of year when the best books lists start rolling in and everyone at TVP Comms loads up their Christmas lists and library holds. For our fellow book lovers out there, here are the best books of the year according to The New York Times, the Washington Post and Publishers Weekly. (I really need to get my hands on The Underground Railroad.) Please feel free to share other lists with us through Twitter.
Follow us on Twitter!
Here's a look at what we were tweeting this week:
Reminded again today how many good people do the work we do, and how much fun it's possible to have doing that work. #highered

— Erin A. Hennessy (@ErinAHennessy) December 1, 2016
Love it. Ben Yagoda notices that the ahnt pronunciation (for aunt), once exclusive to N.E., is spreading. https://t.co/RBYJlrAIDd @chronicle

— Kristine Maloney (@kristinemaloney) December 1, 2016
Thank you to @AGBtweets for including me in today's webinar on "Communicating the Message During Moments of Crisis." Great discussion!

— TeresaValerioParrot (@tvparrot) December 1, 2016
Why you shouldn't be giving your child OTC cough & cold remedies by @DrakeUniversity prof Ed Bell @ConversationUS https://t.co/LNMQFJH3xU

— Cristal Steuer (@CristalSteuer) November 28, 2016
If you haven't already donated for #GivingTuesday, consider supporting @BottomLineOrg https://t.co/OK0EydWOOj via @razoo #highered

— Ali Lincoln (@AliLincolnTVP) November 29, 2016
For all of the latest news and media successes from TVP Communications, follow us on Twitter.