Welp, see you later, 2016! It's been something…so we're going to send it off properly:
http://elfyourself.com?mId=69853883
We wish you happy holidays and a happy new year from all of us at TVP Comms. Please enjoy one last Week in Review before we close down for a short break—we'll see you in 2017!
What's new this week:
The UVA Miller Center's National Commission on Financing 21st Century Higher Education recently released a culminating report on sustainable financial models for higher ed. Coverage continued with a piece in Charlottesville's Daily Progress.
Vice president for enrollment at Grinnell College Joe Bagnoli was featured in a Washington Post piece on Grinnell's push to go global with its student population; the article was also included in POLITICO's Morning Education syllabus.
This week on Inside Higher Ed's Call to Action blog, don't miss posts that look at how the election may affect international student recruitment and internal gift giving and brand building.
What we've been talking about:
The team offered up our favorite holiday traditions—it's all about Christmas Eve for TVP Comms!
What's next on our calendars:
On January 7, Teresa will be conducting media training for the ACE Fellows mid-year retreat in San Diego.
Teresa will co-chair CASE's Annual Conference for Media Relations Professionals, which will be held January 11-13 in New York City.
What we've been reading:
When the story of the Russian ambassador being killed hit the news and included a photo of the shooting, I thought the scene looked like it was from a movie. Maybe it is because my husband watched a James Bond movie marathon this weekend, or because the photos were almost too realistic. Then I saw this AP story—a firsthand account from the photojournalist who was attending the art show and chronicled the event. His story made me pause and his talent as a photographer is phenomenal (only a few pictures are in this story, the others accompany the AP feed worldwide). The emotion and fear rings from each photograph and prove a picture is worth a thousand words.
This time of year, Santa's helpers are everywhere—the mall, parties, community breakfasts, etc. And, after reading this story, I have no doubt the best ones are graduates of Calgary's Santa School. Where else can you get lessons on beard care, voice and laugh training and tips for dealing with tricky kid questions all in one place? The Master of Santa Claus degree comes with a price tag of about $500, but the joy these Santas bring to children is priceless.
This is the first year since 2005 that Christmas and Hanukkah will overlap (also referred to as Chrismukkah). I had fun reading this USA Today piece on all the gifts and tchotchkes you can purchase for families, friends or loved ones that celebrate both Christmas and Hanukkah. In addition to the ugly Chrismukkah sweater, the jingle sizzle pop leggings also look like a great buy.
A few months ago, Erin convinced me to join the Book of the Month Club, and I'm sad to say that I haven't read a single one yet. I haven't even taken the latest one out of the box…But with a nice break coming up, I can finally get around to my neglected (and unopened) stack: A Gentleman in Moscow, The Mothers, The Wangs vs. the World, Swing Time, and Swimming Lessons. Hopefully I'll be a little more on top of my to-read pile in 2017!
As we drift off into the long holiday break, I found myself drawn to this New Yorker piece about the Danish concept of hygge. Among the Oxford Dictionaries' words of 2016, hygge is defined as "a quality of coziness and comfortable conviviality that engenders a feeling of contentment or well-being." Yes, please. After a long and busy—and at times deeply disconcerting—fall, an 11-day dose of hygge is just what I need. It's important to note that a key component of hygge is achieving this coziness and contentment with those you love, though I'll surely be reserving some solo hygge time in the coming days. I hope that you, dear reader, find great comfort and coziness not just in the coming days but well into the new year, too. Remember: "The hard-earned lesson of frigid Scandinavian winters is that there's no such thing as bad weather, only unsuitable clothes—that all you really need to get through difficult times is shelter and sustenance, kith and kin."
Follow us on Twitter!
Here's a look at what we were tweeting this week:
5 Key PR Trends to Watch in 2017 https://t.co/hvAGId2yE8

— Kristine Maloney (@kristinemaloney) December 21, 2016
Great piece by @AshASmithNews | Comm college leaders take civil rights bus tour with goal of solving problems today https://t.co/YYAuqkRQRj

— Erin A. Hennessy (@ErinAHennessy) December 21, 2016
Seven stories about women who were all set to rule the world—and how their careers shook out. https://t.co/iZVOPli8CH

— Ali Lincoln (@AliLincolnTVP) December 20, 2016
Love this story about one of our @Sturbridge_PD finest helping out the Blood Sweat & Tears tour bus https://t.co/PlUY4ZCAHB

— Cristal Steuer (@CristalSteuer) December 19, 2016
And Teresa takes the win for tweets this week—look who retweeted her!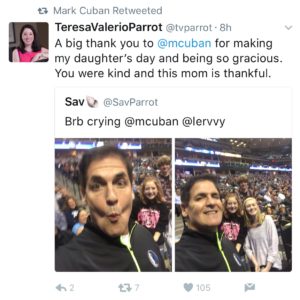 For all of the latest news and media successes from TVP Communications, follow us on Twitter.