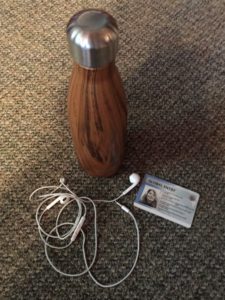 July 1 will mark my one-year anniversary as part of the TVP Comms team. When I joined the team, I knew I would be able to use many of my existing professional strengths, but I've continued to gain a vast set of new skills as well. I've also learned how to work from home and how to travel more easily. And, most importantly, while we work hard, I've learned this team knows how to have a lot of fun.
Here are a few of my favorite memories throughout the last year.
Memorable media placements
I really enjoyed being able to help tell a story about Grinnell College students and their professors going to the U.S./Mexican border during spring break. While the trip was planned before Trump took office, the current political climate gave the event new meaning.
Another story—one that I had been trying to tell since before the College of the Holy Cross even broke ground on its new contemplative center—was the importance of the student retreat experience at Holy Cross (and how retreats are for students of all faiths). Boston Globe religion reporter Lisa Wangsness really nailed it when she participated in an "Eat, Pray, Study" retreat before finals last December.
New skills I've picked up
One of the things I've enjoyed the most is helping Erin, our residential, presidential rollout guru, with the media portion of the big event. My favorite was at Rhodes College. The campus was beautiful (it almost looked like it was in New England), the team was warm and friendly, and the college received some great media pick up from the event.
Another highlight: I've been able to build relationships with faculty and administrators at colleges and universities across the country. Now when I receive a media inquiry or I am pitching a story, I have a very large contingent of experts to call upon.
My favorite trips
It may be surprising, but one of my favorite trips was traveling with Erin while my beloved Patriots were playing in the Super Bowl this past February. While I was sad not to be in New England, Erin made us our very own Super Bowl party in a hotel room complete with pizza and mozzarella sticks. (All this, and Erin doesn't even like football!) Call me superstitious, but I don't think the greatest comeback of all time would have happened if I was at home. It also helped that the client was an Atlanta Falcons fan.
Another favorite trip was our staff retreat in Miami. There are only a couple of times a year that we are all together, so as much as I loved the warm weather, it was also wonderful to be together with the team. We ate delicious meals, had fun times on the beach, and of course, did some planning for the year ahead.
Top travel tips
Before joining TVP Comms I traveled minimally for my job, so my colleagues had to get me up to speed on traveling for work
1. Buy a S'well water bottle to travel with, so you don't have to buy water everywhere you go (and most airports have water bottle refill stations).
2. Take the time to fill out the Global Entry/TSA Pre-Check paperwork. It's so worth it when you can fly through the security line and not have to take off your shoes!
3. Use headphones. It seems silly, but when you are working on the road or in a coffee shop, headphones are so convenient for taking phone calls.
4. Get to your destination early. In addition to meeting our awesome new and existing clients when we travel, we most likely get to see one or two of our colleagues. Since we are all spread out across the U.S., arriving early to have dinner with a colleague(s) is always one of my favorite parts of a trip.
Save the sappy items for last
It's amazing to be working again with my longtime colleague, Kristine. We shared an office for six years at Holy Cross! We can easily pick up where the other person left off…you might even say we finish each other's sandwiches (or at least candy!)
In true anniversary fashion, I would like to make a toast to my colleagues—Teresa, Erin, Kristine, Ali, and Kyle—for all the help and support during my first year at TVP Comms. I'm looking forward to many more!
Photo: travel must-haves.