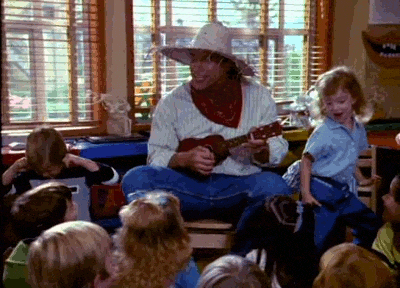 We all know the poem "All I Really Need To Know I Learned In Kindergarten," by Robert Fulghum. While these lessons apply to everyday life, they can also take you far in the public relations world. My son just finished kindergarten, and I find these lessons on my mind more and more every day.  Here are a few of my favorite verses of the poem as they relate to PR.
Play fair. Whether you are working with clients or campus constituents make sure you are being open and honest about what journalists and reporters expect when engaging with them. Whether it's an interview about a professor's research or a dean fielding questions about a student behavior issue, clear and concise guidelines can help ensure that everyone is on the same page. Media training for your faculty and staff not only helps them during an interview (and makes them more likely to be quoted), it also helps journalists get what they need in a timely manner.
Don't hit people. You don't have to be a backstabber, mean or ruthless to get ahead in public relations. Kindness goes a long way with journalists and campus partners. Go that extra mile and make sure you are following up and sending thank you emails or notes (yes, handwritten) to reporters and faculty and staff you are working with. If you work with a professor that frequently drives to do interviews, see if your communications office can reimburse them for gas. These small gestures, will go a long way.
Say you're sorry when you hurt somebody. Things happen. You make a mistake. You send a reporter an email intended for another reporter, or you spell their name wrong. Own it. Say you are sorry. Take responsibility for your actions and then move on. (As someone named Cristal, trust me, my name is spelled incorrectly pretty frequently, and a quick apology is much appreciated.)
Warm cookies and cold milk are good for you. Who doesn't love cookies or baked goods? When Kristine and I were first starting out in media relations, during the holidays we would deliver trays of cookies (homemade) to local media outlets we worked with the frequently.  We would also do the same for colleagues (outside of our department) that we worked on a long/big project with throughout the year.
Live a balanced life – and play and work every day some. We at TVP Comms believe whole heartedly in work/life balance. We give 100 percent at work, at home and in our social lives (or at least try to). We understand the value of a much-needed vacation, and have even instituted summer Fridays on a rotating basis.  We are passionate about what we do, and it shows in the work we perform.
When you go out into the world, watch out for traffic, hold hands and stick together. When you are part of a great team, you always feel like someone has your back.  Your job is easier when you have the right staff to support you (and it helps when they get just as excited as you do about media hits). I work from home alone, but I never feel alone with the TVP Comms team (Slack HQ also plays a big part in that.)