I just recently got back from a vacation, and if you've ever been on a vacation (which I hope everyone has), you know that it can be difficult to jump back into the normal routine of work. I mean just a few days ago I was exploring new cities, seeing new things, making new friends and getting stamps in my passport—conference calls, strategy sessions and having to wake up at a certain time every day just don't compare. Eventually, though, you get settled back into a stable flow, routinely looking back at photos from your trip on Facebook, of course.
Sometimes, even if you haven't just returned from an amazing trip, you can find yourself in what I like to call a routine rut. Whether it's being stumped trying to finish writing an op-ed, article or strategy document, drawing a blank every time someone asks for your opinion, or not knowing what to blog about when it's your day to blog (guilty)—sometimes you just need a little boost to your creativity. This is especially important in PR, where it's necessary to always think about how to reach people in new ways and stand out from everyone else. Without staying creative, you might even find yourself wasting your time with the same old PR traps that just don't work, as detailed recently by Kristine on the Call to Action blog!
Recently, while clicking around online, I stumbled onto the following infographic from Creattica that gives some great advice about small ways to stay creative, which can come in handy if you find yourself in a routine rut. Numbers 1, 4, 8, 9 and 26 are favorites of mine–music, above everything else, is the one thing I need to stay creative and productive while working. Thank  you Spotify and Pandora for all you do!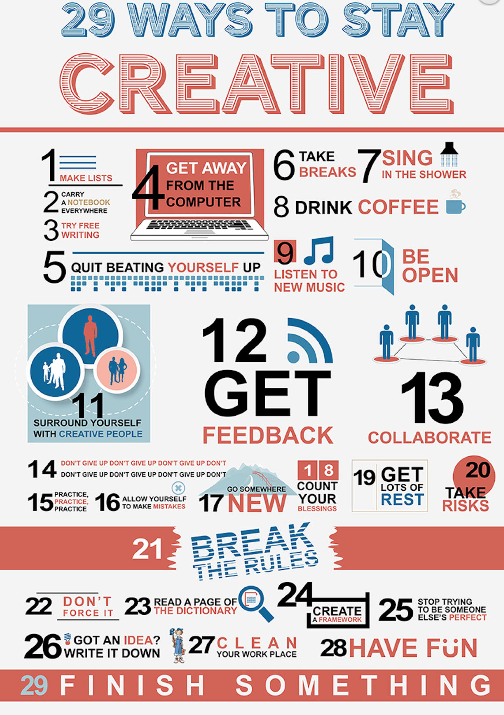 What tips and tricks might you have to break out of a routine rut and stay creative at work?