Last week, Erin, Teresa, and I were i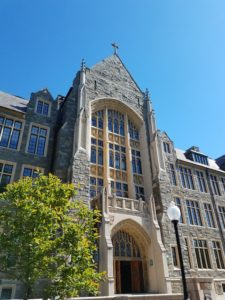 n D.C. for the Education Writers Association's 70th Annual Seminar. While there was a lot crammed into a few days on Georgetown University's campus, I've compiled some of the highlights from the conference (not including food highlights, which could comprise an entire separate blog post) for you below.
Uncertainty Ahead
This year's theme was "A New Era for Education and the Press," and quite a few of the sessions reflected the uncertainty in these changing times. Higher ed policy development isn't really happening, largely because the Department of Education is not staffed up, and so there's a lot up in the air with student loans, Title IX, and tax reform, among other topics. Media (and media relations) professionals will also face uncertainty as we continue to navigate the changing ed landscape.
"Education Coverage is Incredibly Sexy"
You may have heard some mention of Betsy DeVos declining to speak at EWA17, but the keynote did not disappoint. Marty Baron, editor of The Washington Post (formerly of The Boston Globe and Spotlight fame), drove home the importance of the role of the press—and education—in a democratic society. He urged reporters not to be intimidated by insults and claims of fake news, and to continue doing their job of holding the government accountable.
And yes, he really did say that he thinks education coverage is sexy.
Top 10 15 Higher Ed Stories
Inside Higher Ed Editor Scott Jaschik's can't-miss session on higher ed stories is typically limited to 10 topics, but this year, the Trump effect bumped it up to 15.
Here is the traditional top-10 list:
Free tuition is back.
Many liberal arts colleges are in trouble for a number of reasons (men aren't applying, perceptions and realities about job market prospects, high discount rate), and they continue to be under-covered by the press except for scandals.
Will higher ed consider radical, mega-changes (e.g., Purdue-Kaplan deal)?
Higher ed has a role as a place of dissent (which is nothing new), and there is a huge disconnect between higher ed and local communities that is rarely talked about until problems are obvious.
Boot camps and non-credit forms of education have staying power (and some colleges are responding by creating their own versions of boot camps).
Mastery Transcript Consortium, which advocates for competency-based credentials, seeks to challenge and reform high school transcripts and subsequently college admissions in a major way.
A new generation of battles on gay and transgender rights will persist as court battles and state house fights persist.
Community college enrollments are down significantly, and dual enrollment may be masking extent of decline (plus, dual enrollment funding models are insufficient to meet current enrollment and transfer needs).
Liberal arts college students are rejecting traditional liberal arts majors.
The campus library has stepped into a role of centrality.
And the following are the bonus, Trump-specific stories Jaschik discussed:
The U.S. is losing international students (and they are full pay, so if they go it matters).
Science cuts are coming through indirect costs, which is huge money from NIH/NEH grants.
Student aid programs that people don't know about (SEOG, work study) are getting cut.
Keep an eye on relationship between Trump and minority-serving institutions (particularly HBCUs).
We have no champion for the importance of going to college.
NMAAHC Site Visit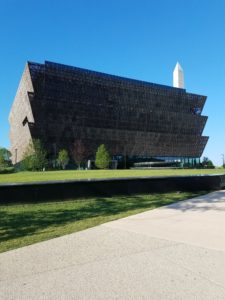 Fortunately for the TVP Comms team, we were selected via lottery to attend a special site visit to the National Museum of African American History and Culture. The museum is amazing! Everything is so well planned and thoughtfully curated, and it's a very sensory experience. And while it was a heart-wrenching tour, it was also enlightening and uplifting. The exhibits force visitors to confront race and identity in our history—and our present—in a meaningful and lasting way.
For more of the conference details, be sure to check out #EWA17 on Twitter.