Happy holidays! The TVP Comms team will be heading out for a short winter break—we will be closed starting Thursday, December 21 and we will reopen on Tuesday, January 2. Before we go, we wanted to share some of our favorite holiday baking traditions with you!
Kristine
Every Christmas Eve, for my entire life, I've received a plate of traditional Italian cookies that serve as Christmas morning breakfast. For about 35 years those cookies were made by my now 92-year-old grandmother, Michelena. She baked for days, weeks really, every year so that each of her three children and her nine grandchildren would get their own little plate of cookies. Now she has 15 great-grandchildren and insists on continuing the tradition. At 92, she's in great shape, but baking that many cookies is a lot even for the toughest among us. So, a few years ago some of my cousins took the reins. Using her recipes they bake cookies for our growing family and distribute them with Gramma on Christmas Eve. It wouldn't be Christmas without those cookies!
Teresa
We are raising our daughter in a blended household, which means she gets my Hispanic heritage and my husband's Southern roots. I grew up baking biscochitos for Christmas with my mom and grandma. When made well, they are light and flaky anise-flavored cookies that are rolled in cinnamon sugar before they are baked. Biscochitos are perfect to pop in your mouth while walking by the kitchen or eating in repetition with coffee in the morning. Most importantly, they are best to leave for Santa to entice him to leave great presents. My husband was born and raised in Kentucky, and he grew up leaving bourbon and sugar cookies for Santa. We mashed up the two traditions and Savannah still leaves biscochitos, bourbon and a note for the jolly old man.
Erin
My holiday baking tradition also involves my grandmother. She was always in charge of holiday baking and my sister and I adored using her cookie press to turn simple sugar cookies into different shapes.
She also had a recipe for candy cane cookies—pink and white dough flavored with peppermint and twisted together—and "pinwheels" which I realize now were basically rugelach with a more kid-friendly name. My nephew is now old enough to be somewhat interested in baking cookies and very interested in eating them, so it's time to ask my mom to dig out her mother's cookie cookbook, full of her handwritten notes, so we can continue the holiday baking tradition.
Kylie
Growing up in a traditional Irish family, sweets were not typically on offer. While my father was a fantastic cook, I don't think I ever saw him bake. So when I reminisce about my childhood Christmases, I think not of cookies or special pastries, but instead a savory meal we had annually. December 25th is my brother's birthday, and my parents made sure it felt like his special day. One such example was my father allowing my brother full control over our Christmas dinner. Most unfortunately for me, my brother's favorite meal, and the one he always selected, is corned beef and cabbage. I personally put this meal at the level of "would only eat if stranded on a desert island." While I would begrudgingly choke down as much as my dad required, now every time I see corned beef in the grocery store (of course, way more often in March than this time of year!), I fondly remember my parents' effort to make sure my brother didn't feel overlooked on Christmas.
Ali
While I have faithfully baked holiday treats every year since I was very young, and look forward to continuing to do so with my daughter, my favorite baking tradition does not involve any actual baking.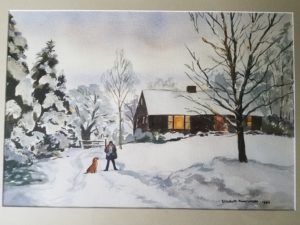 When my father was growing up, he had a pack of mischievous dogs whose holiday hijinks have reached legendary status. As a kid I loved hearing my dad repeat stories of their antics, from scarfing cooling pies (including their tins) to gently nibbling off all of the gingerbread cookies hanging on Christmas tree. The best, though, was hearing about my dad's favorite dog, Farrah, eating all of my dad's special Christmas candy—she ate it from every dish, tin, and even from the stockings and then was sick. My dad cried and chased her until she got stuck trying to escape, too wide after overindulging. We laughed until we ached every time he talked about it—sometimes he laughed so hard he couldn't finish the story. I'm not sure how far removed the truth is from these tales are after decades of repeating, but I smile every time I make butter crunch chocolate toffee, thinking of both the original theft and the years of holiday cheer that followed it.
Cristal
I was very lucky growing up. My grandfather owned an Italian bakery in Boston. (Somerville, to be exact.) The Cara Donna, which means dear lady in Italian, was amazing. Frosting, chocolate and cake toppers abound. Every Christmas day, all the men (over the age of 6) worked at the bakery, prepping pastries, boxing pies, and ringing up delicacies for people who would wait in line around the block on Christmas morning for their baked goods. They would close at noon and hurry to my grandparents' house where we would already be eating appetizers, then eat pasta, ravioli, meatballs, sausage, braciole, and then salad (because you have your salad after your main meal in Italy), and then a fruit and nut course. After that we could finally dig into the bakery treats: cream puffs, petit fours, cannoli, struffoli, Italian cookies and brownies, which were absolutely the best. My uncle eventually took over the Cara Donna, even though he is a great baker, he could never replicate that recipe.