I've got some exciting news: My new built-in bookshelf is finally done! What was supposed to be a weekend project turned into a two-and-a-half month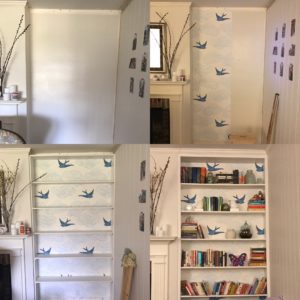 ordeal, but I love them. And I'm trying something out that I've never done with bookshelves before—styling them. All of the other bookshelves in my home house only books, but I was sad about covering up all of the wallpaper behind these shelves, so I decided to try to strategically place items among the books to be sure to let the design shine through. But as more and more books find their way into my house, I doubt I'll be able to keep them from filling the shelf. So I'm trying to figure out where else I can put this wallpaper so I can enjoy it without overdoing it.
If you're looking to enjoy some higher ed news without overdoing it, we've got the highlights for you below.
What's new this week:
Inside Higher Ed featured Grinnell College's comparative class on migration, borders and refugees, co-taught by David Cook-Martin, and its recent spring break trip to the U.S.-Mexico border.
The Chronicle of Higher Education featured Grinnell's Karla Erickson in the special report, Coping with Midcareer Malaise, with several articles on the four types of post-tenure professors and on helping professors overcome malaise and escape ruts.
In a piece for Fortune, Shontavia Johnson of Drake University explains why hiring 3,000 more employees won't fix Facebook's violent video problem.
Congratulations to new Sweet Briar College president, Meredith Woo, who takes office on May 15. Be sure to catch this Diverse: Issues in Higher Education piece as she takes assumes her new role.
The Mastery Transcript Consortium is making waves with a revolutionary way to change high school transcripts—and college admissions. More than 100 elite private high schools have joined the consortium, with plans to expand to public schools, in an effort to replace traditional high school transcripts with competency-based evaluations. The Mastery Transcript Consortium was featured in articles from Inside Higher Ed and cleveland.com
Congrats to College of the Holy Cross professor K. J. Rawson on receiving funding from the American Council of Learned Societies to expand the digital archive of transgender history.
This week on Inside Higher Ed's Call to Action blog, don't miss posts on mobilizing effective brand ambassadors and reworking the expression of your school's brand experience.
What we've been talking about: 
In honor of Mother's Day this weekend, Kristine shared a roundup of articles celebrating student moms and colleges that are doing great things to support their success.
What's next on our calendars:
Teresa will serve as a panelist to discuss responsive leadership during American University's summit for higher ed thought leaders, the NEXT University: A Summit for Innovators, on May 22.
Erin will be facilitating a session on understanding media relations for the American Council on Education's National Women's Leadership Forum in Washington, DC, on June 22.
What we're recommending:
Cristal Steuer
As Mother's Day approaches I couldn't help but be drawn to this story of a paralyzed mother and the two photographers who were able to capture special moments between her and her son. A routine surgery left Sarah Jane Staszak in a wheelchair. Prior to her surgery, she and her son were avid adventurers. A local company dangled Staszak off the side of a mountain (after the harness was tested, of course!), while the photographers snapped away. They also got creative with Photoshop. The adventurous photos are an amazing Mother's Day gift.
Teresa Valerio Parrot
I think there are two groups of people: those who love concerts and live music and everyone else. I grew up with Red Rocks Amphitheater in my backyard, which means I equate summer with concerts. I love my music live and loud. Lately my concert selections have been throwbacks to my high school and college years. I saw OMD and Howard Jones last summer, The Cure in December, Dave Matthews in March and Big Head Todd last week. Later this summer I see my ultimate high school band—Depeche Mode. They've already kicked off the European leg of their concert and I've been watching reports of their set lists. August can't come nearly soon enough and I can't wait for their encore choices—the songs they've played are just epic for stoking memories of my emo teen years.
Ali Lincoln
Even though I'm not really a celeb buff, I do love a feel-good story about a celebrity doing something awesome for others. So, when I saw the story of Nicki Minaj helping out her fans with their student loans and college fees, I was tickled. What a great thing! Right? True, it was a feel-good story, but I enjoyed this follow-up on how her generosity highlighted an important issue in higher ed even more. Nicki Minaj was charitable and her fans now have a great story (and hopefully eased financial burdens), but her actions aren't going to fix the student debt problem—she can't cover everyone's loans!
And, speaking of finances, I generally consider myself to be a responsible person when it comes to money. I'm a decent saver, I contribute regularly to my retirement, and I have minimal debt. However, I'm totally clueless about investing and the stock market. But recently, I've been hearing a lot about Acorns, a micro-investing app that requires very little effort—and very little money—for long-term investing. We decided to try it, and so far, it's pretty cool: it rounds up credit card purchases and saves your spare change to invest once you hit $5. You can also make direct investments, but I love the set it and forget it aspect of the app. I expect to be a billionaire any day now…
Kristine Maloney
I love going to museums and have been to the Peabody Essex Museum in Salem, Mass. several times. Turns out I'll have to plan a return trip soon, as many interesting changes are in process there—and it all stems from an interesting recent hire. The latest addition to the museum's staff is a neuroscientist, brought in to enhance the museum experience by applying brain science to the ways in which people engage with art. They're looking to create more multisensory exhibitions and make changes not only to how they create installations, but also how they select topics for exhibitions, the kids of related programming they provide, lighting, music, space configuration, etc. It's certainly an innovative undertaking—one I'm anxious to experience and watch how it might catch on with other museums.
Follow us on Twitter!
Here's a look at what we were tweeting this week:
Interesting read and surprised/not surprised to see @CUBoulder at the center of it all. #highered @chronicle https://t.co/NsKP570lZ4

— TeresaValerioParrot (@tvparrot) May 8, 2017
End of another great semester of #mediarelations with the phenomenal students of @GeorgetownPRCC. And now… pic.twitter.com/YksyHAzmhI

— Erin A. Hennessy (@ErinAHennessy) May 9, 2017
How Karla Erickson of @GrinnellCollege is helping colleagues avoid mid-career burnout https://t.co/J4YKmOjp1b via @chronicle

— Kristine Maloney (@kristinemaloney) May 8, 2017
So glad this project received the additional funding it deserves! https://t.co/ZDSq3AYpuP

— Cristal Steuer (@CristalSteuer) May 11, 2017
Go moms! #happymothersday https://t.co/fnNbxJgukA

— Ali Lincoln (@AliLincolnTVP) May 10, 2017
For all of the latest news and media successes from TVP Communications, follow us on Twitter.