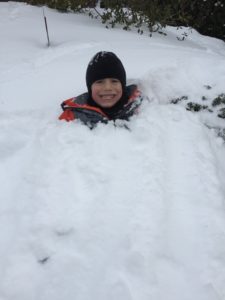 During the last two weeks we've had more than two feet of snow dumped on us up here in New England. No school, lots of shoveling, we've been buried–literally. (See photo of my son above.) All the snow also means lots of hot chocolate, sledding and warming up by the fire. It's finally starting to warm up and the snow is starting to melt, probably just in time for some more snow.
If you've been too busy shoveling to catch up on the latest in higher ed news we've got you covered. For this week's happenings, scroll on down.
What's new this week:
Professor Mathew Schmalz of Holy Cross wrote a piece for U.S. News & Word Report's Debate Club, where he argues why President Trump should repeal the Johnson Amendment.
In an opinion piece for STAT, Melissa Thomasson, professor at Miami University's Farmer School of Business, explained why repealing the Affordable Care Act will make health insurance more expensive.
Jamie Hoag, director of government and community relations at Holy Cross, penned a piece for WBUR's Cognoscenti about why Massachusetts should implement an automatic voter registration system.
Drake University's Jonathan Rosenbloom wrote about the legal and environmental issues around the Dakota Access Pipeline in The Conversation.
This week on Inside Higher Ed's Call to Action blog, be sure to read about why research is key to moving your brand forward and advice to keep your digital ads off controversial websites.
What we've been talking about:
With President Trump's major Twitter presence, leaders of charities and nonprofits are nervous about their organizations being the target of the Tweeter-in-Chief.  Erin offers advice in this article in The Chronicle of Philanthropy.  She says: "Crisis management is all about preparing for the unpredictable. That's how we're advising folks to prepare for a presidential tweetstorm."
What's next on our calendars:
On March 30, Erin will be presenting with Inside Higher Ed's Paul Fain on crisis communications at CASE's 25th Annual Conference for Institutionally Related Foundations.
On April 4, Teresa will be presenting at the CASE Institute for Senior Marketing and Communications Professionals.
Teresa is a member of the planning committee for PRSA's Counselors to Higher Education Senior Summit, which will be held in Washington, DC, April 5-7. At the Summit, Erin will participate in a panel discussion on the importance of a smooth presidential transition.
What we're recommending:
Teresa Valerio Parrot
I live in a small town in Colorado that is located between Boulder and Longmont, and each of the three communities has a very different personality. For that reason, I was sad to see that the Longmont Times-Call is moving its staff so that they are co-located with the Daily Camera team in Boulder. It was only a matter of time before local papers started to consolidate their consolidations, but this move made me sad. At least my little town's paper is going strong. And here's a link to the Left Hand Valley Courier just in case you are curious what a paper for a community of about 5,000 people looks like. Enjoy!
Cristal Steuer
Since I'm still basking in the glow of the Patriots' historic Super Bowl win and it was Valentine's Day this week, I love this story about professional tennis player Genie Bouchard who made good on a bet to go on a date with a Patriots fan if they won. During the game, Bouchard tweeted that she knew the Falcons would win. Pats fan John Goehrke replied "if the Patriots win will you go on a date with me?" She said "sure."  The pair sat courtside at a Brooklyn Nets game this week.
Kristine Maloney
In honor of Valentine's Day, I revisited one of my favorite love stories of all time and watched Jim and Pam's wedding…again.  With the exception of "Steel Magnolias," I have never cried harder at a TV show or movie. I sob. Every time. I love everything about their love story.
Erin Hennessy
This weekend, I plan to curl up on the sofa and dive into Netflix's latest documentary series, "Abstract: The Art of Design." Though I have no artistic talent, I've always been fascinated by design and its role in subtle, often nearly imperceptible storytelling. "Abstract" showcases eight design icons, including photographer Platon, shoe designer Tinker Hatfield, and interior designer Ilse Crawford, and dives into their inspiration, their habits, and the challenges they've faced in introducing good design to world. You can read more about the series in Wired, and you can watch the trailer here.
Follow us on Twitter!
Here's a look at what we were tweeting this week:
How should charities & nonprofits prepare for a presidential tweetstorm? @ErinAHennessy has you covered in @Philanthropy https://t.co/b6yDbfwjOY

— Cristal Steuer (@CristalSteuer) February 13, 2017
From @KirkCarapezza via @NPR: These Top Schools Are Offering Big Savings On Master's Degrees, But There's A Catch https://t.co/aIDfLWNbmg

— Kristine Maloney (@kristinemaloney) February 16, 2017
We made it, y'all! pic.twitter.com/gELvOiKQUz

— Erin A. Hennessy (@ErinAHennessy) February 17, 2017
.@TVPComms @CristalSteuer Awww… I love campus love stories! Our alma mater gave this stone to me and @KevinLParrot when they heard ours 🙂 pic.twitter.com/z2bPYx1fbY

— TeresaValerioParrot (@tvparrot) February 14, 2017
For all of the latest news and media successes from TVP Communications, follow us on Twitter.