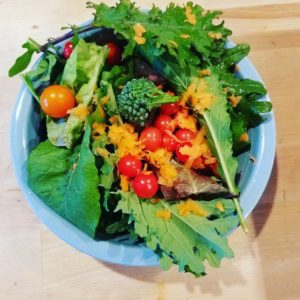 I know some parts of the country have already experienced snow, but after a very warm fall, we've just gotten our first freeze warning down here in Williamsburg. So, it looks like my 2017 garden's days are numbered. Despite the fact that my fall greens, tomatoes, potatoes, and carrots are still going strong, I've been scrambling to pick everything that I can—it just keeps coming. I've even found new tomato and pepper plants that have shot up out of nowhere. But I've also got my eye turned to next season, and I've got to get my shallots and garlic in the ground before it gets too cold!
If the only thing you're worried about getting too cold is the hottest in higher ed happenings, scroll down for the latest.
What's new this week:
Check out this Educate podcast, which revisits one of last year's special documentaries on college behind bars, the connection between education and recidivism, and what it means when prisoners are denied access to education.
Grinnell College President Raynard Kington weighed in on the House-proposed tax bill on college endowments, calling the bill a "crude instrument that will have a lot of collateral damage" in a piece for the Washington Post.
If you're interested in writing for the Call to Action marketing and communications blog on Inside Higher Ed, please contact us with your ideas and for submission guidelines.
What we've been talking about:
Kylie reminds us that every job has an upside, and that even terrible jobs can give us valuable experience.
Teresa is taking the time this November to be thankful for things both big and small in higher education.
What's next on our calendars:
On Dec. 7, Erin will conduct media training for participants in the American Council on Education's National Women's Leadership Forum in Herndon, VA.
Teresa will lead a crisis communications session and case study review for the Dean's Section of the American Association of Law Schools in San Diego, CA on January 6, 2018.
On Feb. 9, 2018, Erin will present "Finding—and Using—Your Voice: A Communications Toolkit for Advocates," part of Mount Holyoke College's Advocacy in the Public Domain event series.
Teresa will be at the National Conference on Trusteeship for the Association of Governing Boards of Universities and Colleges in San Francisco. She will run the Crisis Management: What is the Role of the Board? Workshop on April 22, as well as facilitate the master class Fake News, Social Media, and Your Institution's Reputation on April 23.
What we're recommending:
Teresa Valerio Parrot
It's so Teresa cliché: This week I'm reading about a hippopotamus and space. This weekend my husband introduced me to a hippo cutie in Israel who decided to escape her enclosure, and then decided the outside world was underwhelming and returned home. Sounds a bit like me on a weekend! And, I enjoyed this BBC piece on the women who sew for NASA. I'd never thought about the fact that electrical engineering skills are needed to create the suits and blankets that astronauts use. It's an interesting read and has some really cool links to other ways in which women and their sewing and weaving skills have helped NASA over the years. 
Cristal Steuer
The governor of Illinois tried to get rid of cursive writing in classrooms but the state's legislature overturned the decision. As a member of team cursive, there are numerous benefits of being able to write in script—plus it's just plain weird to think my children could grow up not knowing how to write in cursive. I was listening to Radio Boston as I was driving yesterday and the hosts were discussing the pros and cons of learning cursive and also writing vs. typing and how children retain more information if they actually write words down. Then someone called in to say the notorious crime boss Whitey Bulger had the nicest script anyone has ever seen. Check it out. It's true. So, while he was not a benefit to society, I believe cursive writing will continue to be.
Kylie Lacey
While I loathe cold weather, there is one major thing I look forward to every fall: football season! Sundays are dominated by the TV and what got me into watching football in the first place—lots and lots of snacks. I make at least two hot appetizers every week and try not to repeat a recipe during the season. However, there is one dish that's so delicious I am begged to make it about once a month. I happily obliged this past Sunday. This recipe is incredibly simple but incredibly delicious. It calls for the grating of mass amounts of fancy cheese, the melting of butter with garlic and thyme, stuffing all of that goodness into a loaf of bread and baking the whole mess for 20 minutes. I highly recommend it makes an appearance on your football snack table.
Erin Hennessy
Cancelling plans (or having them cancelled) is among the greatest joys in life. And there's science to back that feeling up. As neurobiologist Amy Banks explains in this article for The Cut, you may feel good about canceling plans because of the normal amount of social anxiety we all feel before social engagements, or you may have an overwhelming schedule, or you may feel that the relationship with the person you have plans with is unequal or unrewarding. But the ultimate point of the piece is one I've been trying to keep front and center this year: Don't make plans you feel ambivalent about, or with people you feel ambivalent about. Sure, you'll miss the sweet rush that comes with cancelling, but think of all the time you'll save coming up with the perfect reason to cancel.
Ali Lincoln
Sometimes I find myself caught in a vicious parenting advice and tips cycle: I'm stressed about a problem, turn to a book or a blog for a solution, and come away with more problems to stress about. Luckily, I'm usually able to set whatever nonsense or stressor I'm reading down and regroup. And sometimes, I even find reads that are so worthwhile for me that it makes the occasional parental failure spiral manageable. This week, I've got two. First up, I read How to Talk so Little Kids Will Listen by Joanna Faber and Julie King, and I'm totally digging it. It's draining to constantly be battling an adorable but irrational tiny human, and this book had some great advice and real life examples for occasionally breaking through some of the toddler craziness in our house. And I also just read The Opposite of Spoiled by Ron Lieber, and while my daughter is a little too young to employ the advice, it was an eye-opening read and something I will be returning to in a few years.
Follow us on Twitter!
Here's a look at what we were tweeting this week:
While I do love warm weather….https://t.co/EQ6L6pS8C4#globalwarming

— Kylie Lacey (@klacey11) November 7, 2017
Just brewed a pot of coffee into the remains of yesterday's coffee. A horrible moment of realization and then pic.twitter.com/TihVBaKwQJ

— Erin A. Hennessy (@ErinAHennessy) November 9, 2017
Way to go @BottomLineOrg! #highered https://t.co/Jab7LaAkO9

— Ali Lincoln (@AliLincolnTVP) November 9, 2017
It's the 100th anniversary of the Russian revolution, but what does that mean for #Putin? @holy_cross prof explains https://t.co/bM7Wcr1MUD

— Cristal Steuer (@CristalSteuer) November 7, 2017
While we're all sleeping, journalists on overnights are putting together our morning news. https://t.co/9kuBdRYTBC

— Kristine Maloney (@kristinemaloney) November 8, 2017
Holy moly– I have 280 characters and now I'm speechless. Well played @Twitter

— Teresa Valerio Parrot (@tvparrot) November 8, 2017
For all of the latest news and media successes from TVP Communications, follow us on Twitter.