My garden should be in peak production of tomatoes right now, and I have only been able to enjoy a precious few. Why? The damn squirrels. I'm sad to say that in the battle of Ali versus rodents, Ali is sorely losing this year. They keep snatching the newly ripe, almost ripe, starting to ripen from the vine, or worse, taking a single bite and leaving me to think that I've bested them this time. I'm kind of embarrassed that I'm not able to outwit a squirrel, but they're so wily and relentless! Not even sunflower seeds are keeping them from my garden jewels as they crush my dreams of homemade sauce and Caprese salad.
Don't worry, no dream-crushing here; just some higher ed happenings.
What's new this week:
Professor Joanne Pierce of the College of the Holy Cross explained why the Catholic Church bans gluten-free communion wafers in The Conversation.
American Experience from PBS spoke with K. J. Rawson, professor at Holy Cross and founder of the Digital Transgender Archive (DTA), about the DTA collection and the importance of creating a historical record.
Jeff Sessions' eventual demise should be a lesson for Trump, wrote Holy Cross Professor Donald Brand in a piece for Fortune.
Also in Fortune, Professor Douglas Hess of Grinnell College examined why Trump's management style doesn't work.
This week on Inside Higher Ed's Call to Action blog, be sure to check out three key benefits of investing in professional development.
What we've been talking about:
Ali returned to her alma mater's campus recently with her daughter in tow, and she may or may not have gotten a little emotional and nostalgic about higher ed.
Teresa offers some advice on what "The Mooch" can learn from fairy tales and higher education as he settles into his new White House communications role.
What's next on our calendars:
Teresa will present a preconference media training at the CASE Annual Conference for Media Relations Professionals on Monday, September 18 in Philadelphia, PA.
Teresa will be co-leading the "Developing Presidential Voice: Toolkit for Marketing and Communications" webinar for Academic Impressions on September 22.
Teresa will be leading a crisis communications session and case study review for the Dean's Section of the American Association of Law Schools in San Diego, CA on January 6, 2018.
What we're recommending:
Teresa Valerio Parrot
Like a number of people across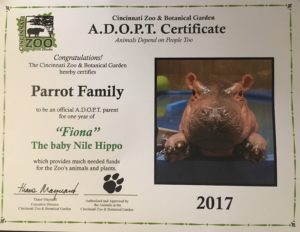 the country, I've spent my free time reading about what is going on in Washington, DC, and I don't want to recap all of that news! So, instead I have an important announcement. The Parrot family has been expanded by about 400 pounds. We have officially adopted Fiona the hippopotamus from the Cincinnati Zoo and my heart couldn't be happier. Now, I just have to plan a visit to see my baby.
Cristal Steuer
Approximately 115 years ago, Mary Anderson of Alabama, was stuck in traffic in NYC when her streetcar driver had to keep getting out of the car to wipe the snow off the windshield. This led Anderson to invent the windshield wiper. While she did patent her device, she was unable to sell it. NPR talks with her great-great-niece about Anderson finally getting the credit she deserves for enabling people to drive in all types of weather conditions. And, being from New England, I'm especially grateful for her invention.
Kristine Maloney
I really enjoy nature photography and the recently released 2017 Audubon Photography Awards did not disappoint. I had intended to share which of the top 100 were my favorites, but there are so many that it was becoming difficult to manage. After a week of some pretty intense news, take a minute to relax with some amazingly beautiful birds from around the world.
Follow us on Twitter!
Here's a look at what we were tweeting this week:
Hell of a thing when organizations need to be ready with crisis comms after an address from the president of the United States… https://t.co/Ufw6vn65As

— Erin A. Hennessy (@ErinAHennessy) July 25, 2017
Thinking about @holy_cross has me feeling all the feels. #highered nostalgia on the @TVPComms blog: https://t.co/ORYTWLPVeL

— Ali Lincoln (@AliLincolnTVP) July 26, 2017
This is the way the college 'bubble' ends, writes @dkthomp https://t.co/qkhiBELKCq

— Kristine Maloney (@kristinemaloney) July 27, 2017
.@insidehighered who won the #academicswithbeer challenge?

— Cristal Steuer (@CristalSteuer) July 24, 2017
Please note: I work with people all day long who have "communications" in their titles and they are the utmost professionals.

— TeresaValerioParrot (@tvparrot) July 27, 2017
For all of the latest news and media successes from TVP Communications, follow us on Twitter.