As a leadership consultant, one of the bluntest tests I apply to a client's decisions is to assess how well their position aligns with the ethos and mission of their institution. I push back on campus leaders taking half-steps toward bold positions and flag missed opportunities to take any position. Sometimes there is a moral grounding for my dissent and often there are financial implications for the decisions or nondecisions.
With this counsel in mind, I've known for nearly a year that I may have to take a dose of my own medicine.
Since the founding of TVP Communications, we used Twitter as a primary communications vehicle that provided a lifeline to new people and opportunities, let us shine a light on our partners and work, and allowed us to build and share our thought leadership and expertise. Personally, I used Twitter as a community-building tool. I curated a group of colleagues, many of whom have become friends. It was a place where I could talk about higher education and share about my life. This community was most important to me during the pandemic, which was also when I started my doctoral program. It was right around this time that some of the annoyances of the platform, including the opportunity for anonymous accounts to share hate and anger, seemed to grow. The emotions of the country as we dealt with the personal and economic fear associated with COVID's unknowns seemed to be boiling up everywhere, including on Twitter. And then especially on Twitter. That vitriol extended to include bots and bigots, some of whom sometimes took profanity-filled positions against my higher education work (too woke!) or my takes on intercollegiate athletics governance, which was my dissertation topic (what does a woman know about sports?).
And it got worse starting on October 27, 2022—the day Elon Musk's acquisition of Twitter was complete. I watched as higher education experts became the target of online hazing in more frequent numbers and with a new ferocity, and I began to receive DMs that should make the senders' mothers blush based on the sexual harassment leveled and hateful language used. We were—and are— having a harder time convincing administrators and faculty to participate in thought leadership because of worry about social media backlash. The tone for this type of behavior was being set at the top and Musk has only grown bolder in showing us exactly who he is, what he thinks, and the type of community he wants Twitter, now X, to become.
For months, we talked within TVP Communications about whether Twitter was the right space for us. This was important for me because I asked my team members to participate in social media to amplify their successes with our campus partners. As such, it is my duty to minimize risk for my team for their job responsibilities. I maintained for months that we would know if and when it was the right time to exit Twitter. We held a retreat in late August, and I told the team I believed we should have a check-in after Labor Day weekend to determine if this was the platform where we should be spending our professional time and energy. Based on Musk's own postings and the company's lack of support and/or targeting of individuals and groups, the decision was clear it was time for the agency and myself to step away.
On Tuesday, September 5th, the agency and I posted these Tweets, respectively: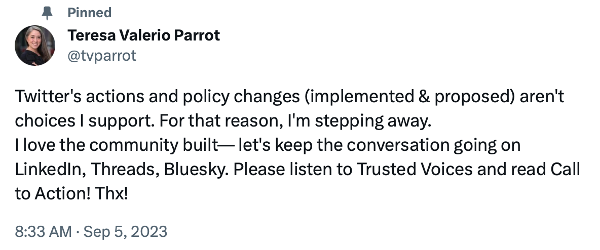 I'm not dictating for the team what they do personally on Twitter, and I'm technically not off the site. However, both the TVP Comms account and my account have pinned messages outlining that we stepped away. I replaced the banner photo on my account and my bio to reflect other social options to keep our community alive.
As an agency, we are focused now on maintaining and building our connections on LinkedIn. I'm posting there and trying to recreate my connections and community on Bluesky and Threads. I didn't have a Meta presence before August, so I'm starting from scratch on both fronts. Thus far, Bluesky is providing me with a media and academic-focused higher education community. Threads seems the most like Twitter and I have found the greatest number of Twitter connections on that platform. What seems to be missing from both Bluesky and Threads are the athletics conversations and rivalries on gamedays, and the active conversations and community idea sharing related to work-based topics that both platforms don't make easy or intuitive to join.
Long term, I'll be curious to see how and if this change impacts our business even as we actively strategize social spaces for maintaining community, sharing our successes, and learning of industry and breaking news. I'm accountable and responsible for any change that happens and I am happy to live that role because I know my decision is aligned with who we are and the counsel we provide.
And, if you are interested, you can follow our new conversations here:
TVP Communications
Teresa Valerio Parrot