I'm jumping on the back-to-school blog post bandwagon we have going on here at TVP Communications. But while Erin and Kristine both looked to the new academic year, I'm looking back—a decade back, actually.
Holy Cross Move-In Day for the class of 2019 is this weekend, and 10 years ago today, that was me.
August 27, 2005 was a particularly hot and humid day in Worcester, Massachusetts, and as my mom and I rolled onto campus I was nervous and excited and not quite sure what to expect from Holy Cross. And boy, did they literally jump on making a strong impression.
When we pulled up in front of my dorm, a swarm of excited students, faculty, staff, administrators, and alumni attacked our car, pulling out everything before I even had a chance to undo my seatbelt. Within five minutes, all of my belongings had made their way up to Mulledy 3 East, room 316, and I'm pretty sure I only carried up my pillow. Don't worry, I still unpacked everything (with my mom's help) and ended up looking like this by late afternoon: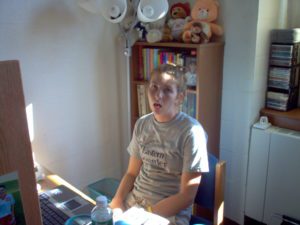 I know it technically wasn't my first impression of the school, since I had been on tours, to Accepted Students Day, and to Summer Orientation, but it truly took me by surprise and enveloped me in the community at HC. My first official day on campus, I got to see the president of the college in running shorts, welcoming students and families. I saw deans, professors, and staff that I would eventually come to know hoisting milk crates and boxes up non-air-conditioned stairwells. And I also got to see the enthusiasm and passion of students who would become my peers and very dear friends.
I only missed move-in day once in my four years, and I was across the Atlantic experiencing a very different kind of move-in day in Italy. After I enjoyed it as an incoming freshman, I was on the crazy team that actually carried boxes as an RA in my second year and a fall OL in my senior year. I loved watching puzzled students get excited and grateful parents get teary-eyed, and I hope the class of 2019 appreciates the move-in experience as much as I did.
If you remember anything about your own college move-in day, or if your school had any special traditions, I'd love to hear about them!