We know Kristine Maloney is someone to watch and a standout in our field and we are pleased the Worcester Business Journal agrees. Just this week Kristine was named to their 40 under forty list. Within Kristine's f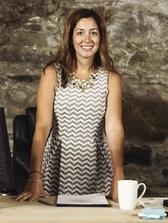 eature is the following description of her career highlights, "Reading my first national story hit the front page of USA Today, ghostwriting articles published in The New York Times, and working with the late Rev. John Brooks, former College of the Holy Cross president, on a feature for NBC's Today Show."
With these accomplishments, it's no wonder why we adore having her on the TVP Communications team. She brings passion and expertise (and media hits!) to our clients and exhibits a creativity that inspires all of us. And, she's part of a Worcester power couple, too.
Please join me in congratulating Kristine on this great honor. Kudos!