I've written before about internationalization in higher education and why I think it's such an important topic—particularly, that institutions should expand and increase student participation in international opportunities as well as attract more international students.
Last week, I read an article on the PIE News that in order to attract the "best students" from around the globe, the University of Edinburgh is aiming to become 50 percent international. It was refreshing to see quotes from institutional leaders championing the need for a strong emphasis on internationalization. Many highly ranked international institutions already strive to attract high-achieving international students—as noted in the PIE News article, the London School of Economics for instance already has a majority of international students. In reading this, I thought to myself about how infrequent it is to see US college and university presidents really, truly champion internationalization efforts.
There is some great work being done on US college campuses by those focused on internationalization, which can be seen in recent increasing trends of students going abroad.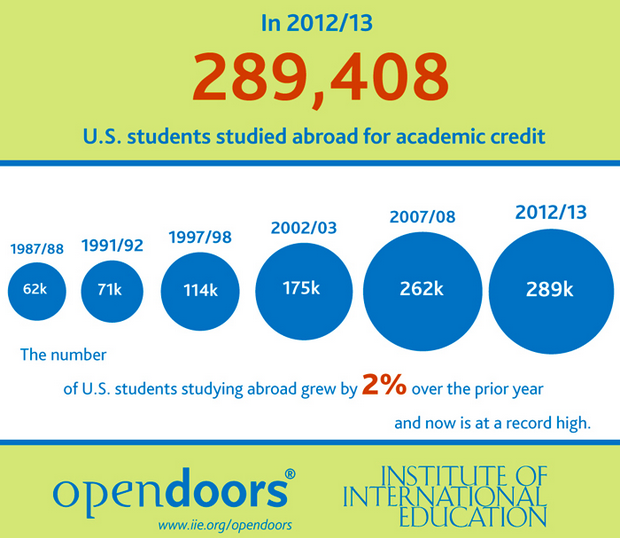 Click on the image above for a full infographic summarizing IIE's Open Doors Report.
However, even with these positive trends, I still do not believe that internationalization is top-of-mind for many high-level campus administrators. It's all of our responsibility to ensure that our campuses view internationalization as a key issue for growth and student development. It is especially important for us as university communicators to grow awareness of institutional efforts in internationalization.
For higher education practitioners, there are several upcoming conferences and gatherings that will provide much greater context around key issues impacting internationalization, both domestically and abroad. Even if your direct responsibility isn't in international issues on campus, I'd encourage you to check out each of the following for ideas and insights into how EVERY position on a college campus is responsible for internationalization.
Association of International Education Administrators (AIEA) 2015 Annual Conference
Leading Global Learning: Envisioning New Paradigms
February 15-18, 2015
Washington, DC
The Forum on Education Abroad Annual Conference
It Takes a Campus and More: The Faces of Education Abroad
March 25-27, 2015
New Orleans, LA
NAFSA 2015 Annual Conference & Expo
New Horizons in International Education
May 24-29, 2015
Boston, MA
British Council Going Global 2015
Connecting Cultures, Forging Futures
June 1-2, 2015
London, England