Now that we've had some rain and warm weather, my vegetable garden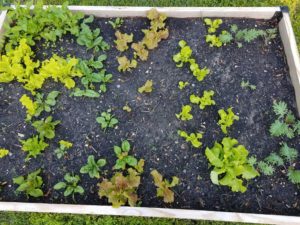 is starting to take off. All but one bed has been planted, and we've been harvesting spring greens like arugula, lettuce, kale, and spinach. My daughter really enjoys gardening so far (mostly digging in the dirt and sloshing water all over, so I see the appeal), especially now that she can eat from it. When she's outside, I catch her tearing greens from their stems and shoving them into her mouth before I can rinse them. Her favorite? Arugula, which she calls googa. It's surprising, because it's pretty spicy, but she makes a beeline for it every time we head to the backyard.
If you are making a beeline for the latest in higher ed news, scroll down for more.
What's new this week:
The Washington Monthly featured a piece from Emily Hanford of APM Reports on how a little known standardized test—the Accuplacer—harms community college students.
Last week, College of the Holy Cross professor Cynthia Hooper wrote an article on Russia's alternate media reality for The Conversation. It still has some impressive legs this week, with pick up from Newsweek, Salon, and Yahoo.
In a piece for The Conversation, Professor Edward Bell of Drake University explained why children need vaccines even in an age when the risk for the disease seems minimal.
How fortunate these professors had articles in Fortune! Holy Cross professor Donald Brand weighed in on why Trump, of all people, should not be making the White House visitor logs private. Professor Rocky Newman of the Farmer School of Business shared the real reason investors can't get enough of Tesla Motors. And Drake University's Shontavia Johnson explained why the FCC should step in before there is another murder video on Facebook.
This week on Inside Higher Ed's Call to Action blog, be sure to check out posts on marketing's role in yielding prospects, a DIY website audit for international recruitment, and the benefits of mosaic branding.
What we've been talking about:
We're definitely Team Slack here at TVP Comms, so don't miss Ali's latest Quick Hit that highlights some great recent updates to the messaging tool.
Cristal shared some dinner table conversations about her husband's M.B.A. program that have informed her work.
What's next on our calendars:
Teresa will serve as a panelist to discuss responsive leadership during American University's summit for higher ed thought leaders, the NEXT University: A Summit for Innovators, on May 22.
Erin will be facilitating a session on understanding media relations for the American Council on Education's National Women's Leadership Forum in Washington, DC, on June 22.
What we're recommending:
I had a very short-lived career as a Girl Scout (I don't know if I even made it to cookie season or earned a badge), but I loved this NYT story on a new troop in New York. The troop is the first designated exclusively for homeless girls, and the Girl Scouts is covering all of their costs for the program. While that may seem like a depressing basis for a troop's existence, it also offers some community and connection for children who may not get it otherwise.
Tomorrow morning, in Tempe, Arizona, more than 30,000 people will toe the start line at the 13th annual Pat's Run, a 4.2-mile event that honors the legacy of Pat Tillman, an Arizona State University graduate who went on to play professional football for the Arizona Cardinals before becoming an Army Ranger. Tillman was killed during combat in 2004 in Afghanistan. After his death, his widow established the Pat Tillman Foundation, which to date has provided more than $14 million in scholarships to military veterans and their spouses. I've been a supporter of the Tillman Foundation for many years, but last year I kicked it up a notch by joining one of 32 Tillman Honor Runs around the country organized by the ASU Alumni Association, running my own 4.2-mile race here in Washington, D.C. Tomorrow, I'll do it again, joined by more than 200 fellow supporters. To learn more about the Tillman Foundation and the amazing work they do to help veterans and their spouses pursue higher education, click here.
Sometimes you can read too much into social media posts, and yet it is interesting to read one person's analysis of the pictures Melania Trump shared on Twitter and what they tell us about her life. Many of us view her life as a fairytale, but the post suggests perhaps it's a fairytale in which the queen is locked in a tower. The piece makes me wonder what storyline I'm sharing on social media and making me rethink what has always felt natural—perhaps there is more to what and when we post.
Follow us on Twitter!
Here's a look at what we were tweeting this week:
For a taste of @ehanford's award-winning education reporting, check out @EducatePodcast and @apmreports. https://t.co/6yhBLbheEq https://t.co/oVKtLsda3V

— Kristine Maloney (@kristinemaloney) April 19, 2017
Plz read. @ErinAHennessy and I agreed it is spot on. "Report finds unsettled pathways to the college presidency" https://t.co/hxb3ntvCCY

— TeresaValerioParrot (@tvparrot) April 19, 2017
North Korea is a challenge but an opportunity to enact real U.S. policy change says @DrakeUniversity's Mary McCarthy https://t.co/C1sTlbR2Td

— Cristal Steuer (@CristalSteuer) April 19, 2017
Don't tell anyone, but last week I admitted I was thinking about going back to school for another degree.

— Erin A. Hennessy (@ErinAHennessy) April 20, 2017
Strawberry shortcake for first breakfast and chocolate for second breakfast. Not hating today.

— Ali Lincoln (@AliLincolnTVP) April 17, 2017
For all of the latest news and media successes from TVP Communications, follow us on Twitter.