The holidays are just around the corner, which means my household is swimming in decorations, sweet treats and good cheer.
One of the Parrots' favorite traditions is watching the movie Elf, and thankfully Kyle and Kristine join me in adoring this movie. This week, the three of us were traveling together and had the opportunity to reenact this beloved scene: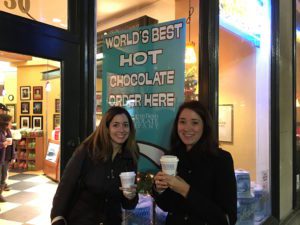 May your week be filled with the "world's best" of everything!
What's new this week:
When I think of traditions, I think of the holidays and my alma mater and I'm not alone. This week President Jonathan Gibralter shared a number of unique Wells College events and affiliations and advocated for traditions to bring our communities together.
It's also U.S. Supreme Court oral arguments season, and Grinnell College President Raynard Kington powerfully weighed in on the Fisher v. University of Texas at Austin discussions in a piece on Inside Higher Ed.
There have been a number of recent conversations on the growing number of students with housing and food insecurities and this week a solution to the problem was shared. Scholarship America funded research on the effectiveness of small-dollar grants for students and emergency aid programs and the preliminary results are quite promising.
On the Inside Higher Ed Call to Action blog this week, Indiana University's Rob Zinkan discussed central campus marketing roles and the rise of the (unit-level) chief marketing officer; and Jonathan Coffin and Dirck Hargraves, both from VOX Global, shared their top three principles for driving highly charged and necessary campus conversations.
What we've been talking about:
Erin Hennessy was featured in an Inside Higher Ed piece focused on keeping lines of communication open with alumni while working through tough issues like diversity on campus. She sagely shared:
"With some of these more difficult issues, you're going to have alumni say, 'Well, that's not my college or university anymore,' and that's unfortunate," Hennessy said. "But on the flip side, a lot of alumni may be re-engaged in the institution" because they are sympathetic to protesters' demands. Whatever the case, institutions can't stop having hard conversations for fear of upsetting alumni, she said.
What we've been reading:
Kristine Maloney
I can't resist clicking on year-end best books lists. This one from The Atlantic is a mix of old and new, fiction and non, many of which weren't yet on my radar. They also highlight forthcoming titles for 2016. In my opinion, any list that includes The God of Small Things, by Arundhati Roy, is solid.
Erin Hennessy
We've all read the shooting aftermath stories that focus on survivors moving on and making sense of their new normal and finding ways to put the traumatic events behind them. But those stories are likely the exception, not the norm. Over the weekend, The Washington Post ran a tough-to-read but vitally important story about what the aftermath of the Umpqua Community College shooting has been like for one survivor. This quote has stuck with me: "She couldn't go back to school, or play her guitar, or drive her truck, or hold a long conversation without losing her breath, so she mostly sat in silence and thought about the same seven minutes everyone else was so purposefully moving past."
Bobby Mathews
Donald Westlake is one of my favorite authors and his books hold a place of honor on my bookshelves. While Grantland is no more, this take on Westlake's ability to write engaging and compelling characters is a must-read for anyone who still reads fiction. Westlake was a writer's writer, who never wrote an awkward sentence, and his entire oeuvre is worth reading. As someone who cares about the craft and workmanship of my writing, Westlake is my gold standard.
Teresa Valerio Parrot
It MUST be the holiday season and This American Life has given me the ultimate gift! My passion for the Serial podcast has been well documented in these updates, and this week season two debuted. The storyline for the season focuses on Sgt. Bowe Bergdahl and I can't wait to hear how the Serial team tells the many sides of the story. Set your phone to auto download the episodes today—and plan on future updates from me.
Follow us on Twitter!
Here's a look at what we were tweeting this week:
Just catching up on my Twitter reading… this should be at the top of everyone's list! https://t.co/TpkTIwtDnT

— TeresaValerioParrot (@tvparrot) December 9, 2015
Awesome piece from @StephenBurd2 on the great work being done at @GrinnellCollege. https://t.co/sLojXlrDlG

— Erin Hennessy (@ErinAHennessy) December 9, 2015
.@insidehighered turned to @ErinAHennessy for insight on communicating race and diversity initiatives with alumni https://t.co/v3q4JacLCA

— TVP Communications (@TVPComms) December 9, 2015

For all of the latest news and media successes from TVP Communications, follow us on Twitter.