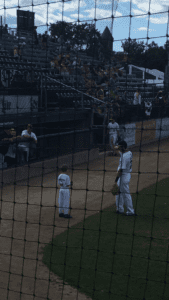 Recently my son was lucky enough to be a bat boy at the Worcester Bravehearts game. While I'm certain he learned some new language in the dugout and I saw him building sand castles in the dirt during the seventh inning stretch, he had a great time (despite the loss). Our local team has a very family-friendly atmosphere, and the fact that the team owner is also the proprietor of a catering company makes concessions that much better, even though I'm always partial to a soft pretzel. I still remember the day at Holy Cross when we announced the new team—our intern delivered Cracker Jack with our media alert about the partnership between the College, the team and the city. It's hard to believe the team is now in its third year and heading into another championship game tonight.  Good luck Bravehearts!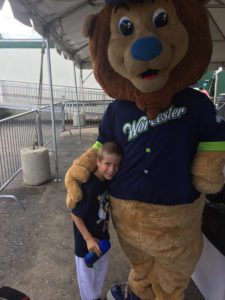 If you only want to champion the higher ed headlines, scroll on down for the week's best hits.
Holy Cross religious studies professor Mathew Schmalz explains Rakshabandan, a Hindu festival that honors ties between sisters and brothers, in The Conversation.
Amy Murphy of Holy Cross's Center for Career Development and Monique Frost of Farmer School of Business's Career and Professional Development Center share advice for new college grads with GoodCall.
Holy Cross Chief Information Officer Ellen Keohane pens a piece for Education Dive on how to modernize college cloud operations.
Virginia Raguin, head of the art history division at Holy Cross, weighs in on whether art can shed light on the ethics of capital punishment for Sojourners.
Holy Cross Chief Investment Officer Timothy Jarry speaks to Bloomberg about strong endowment returns under the Trump presidency.
Political scientists Barbara Trish and Eliza Willis of Grinnell College write about rewiring our brains to move past the current toxic political era for Salon.
What's new this week:
This week on Inside Higher Ed's Call to Action blog, learn what Japanese fly fishing can teach us about the value of getting back to basics and how to make the most out of market research on a shoestring budget.
What we've been talking about:
Cristal honored Selina Meyer for #NationalVeepDay in a Quick Hit this past Wednesday.
What's next on our calendars:
Teresa will present a preconference media training at the CASE Annual Conference for Media Relations Professionals on Monday, September 18 in Philadelphia, PA.
Teresa will be co-leading the "Developing Presidential Voice: Toolkit for Marketing and Communications" webinar for Academic Impressions on September 22.
Teresa will be leading a crisis communications session and case study review for the Dean's Section of the American Association of Law Schools in San Diego, CA on January 6, 2018.
Erin will present on "Finding—and Using—Your Voice: A Communications Toolkit for Advocates" on February 9, 2018, as part of Mount Holyoke College's yearlong "Advocacy in the Public Domain" series.
Follow us on Twitter!
 Here's a look at what we were tweeting this week:
If Americans Can Find North Korea on a Map, They're More Likely to Prefer Diplomacy https://t.co/WAKafLqcCY

— TeresaValerioParrot (@tvparrot) August 9, 2017
Brace yourself for a 100 tweet education that will turn the 90s upside down and yet somehow right side up for you. https://t.co/FoPos5STUq

— Erin A. Hennessy (@ErinAHennessy) August 8, 2017
.@NSWPres talks to @JonMarcusBoston about why men are the new minority on college campuses @TheAtlantic https://t.co/0f0qYeAD1P

— Cristal Steuer (@CristalSteuer) August 10, 2017
For all of the latest news and media successes from TVP Communications, follow us on Twitter.