We had our second official heat wave of the year this week in Massachusetts (where Cristal and I live) and I loved every hot, sweaty minute of it. Any week that includes early morning runs to beat the heat, ice cream lunches (yup, all three 90-degree days), and late night reading on the deck as the days cool is heaven in my world. It may have taken a while for the warm weather to arrive this year, but it finally feels like summer in New England.
Before you head out for summer fun and Father's Day celebrations this weekend, be sure to catch up on higher ed happenings below.
What's new this week:
In an interview with Times Higher Education, Sweet Briar College President Meredith Woo discussed the importance of women-only colleges and the role of academics in policy making.
In the wake of Harvard University rescinding offers of admission to incoming students over offensive online posts, our own Cristal Steuer served as a spokesperson for College of the Holy Cross in a roundup on social media conduct for the Telegram & Gazette.
Despite immigration fears and uncertainty in the Trump administration, several Massachusetts schools, including Holy Cross, have seen record spikes in international student applications. Check out the Boston Herald article here.
This week on Inside Higher Ed's Call to Action blog, don't miss posts on merging academic and athletic logos and demonstrating social media's value and impact.
What we've been talking about:
Kristine shared pitching resources from Entrepreneur magazine in a Quick Hit this week.
Teresa presented at the University of Michigan's New Leadership Academy.
What's next on our calendars:
Erin will be facilitating a session on understanding media relations for the American Council on Education's National Women's Leadership Forum in Washington, D.C., on June 22.
What we're recommending:
Cristal Steuer
This piece in The Conversation debunks the stereotype that low-income families eat more junk food than middle- or upper-class Americans. The authors' research found low-income families are less likely to eat fast food than middle-class families, and only eat slightly more fast food than the wealthy. While they have a lot of data to support their argument, one is that fast food is expensive, and most low-income families can't afford the average of $8 per meal. As someone whose son likes to eat Happy Meals now—fast food bills add up. Another important point, we all indulge every once in a while!
Teresa Valerio Parrot
I'm usually indifferent to the Memories on Facebook feature, but this week my emotions got the best of me. I enjoyed a weeklong trip down memory lane to past Father's Day celebrations and moments between my dad and my family. This picture was the one, though, that tugged at my heart the most. My dad is aging and my memories with him are becoming more and more precious. So, with a tear in my eye and a smile on my face, know that I am wishing all dads a very happy Father's Day.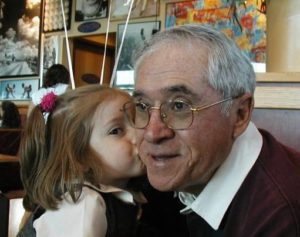 Ali Lincoln
I've been a David Sedaris fan ever since I read Me Talk Pretty One Day while studying abroad (perhaps one of the better decisions I made that year). His writing often makes me laugh out loud, even when he's covering serious or somber topics. His latest essay is no exception. Titled "Why Aren't You Laughing?," he considers his mother's alcoholism in the essay; it really struck a chord with me, despite being simultaneously humorous. Even if you're not a Sedaris fan, I think it's worth a read.
Erin Hennessy
In celebration of their 30th anniversary as a national broadcast, Fresh Air has hosted a series of live events with prominent individuals and newsmakers. This week, I've really enjoyed two particular programs: Terry Gross sat down with Seth Meyers, host of Late Night on NBC, and former vice president Joe Biden. Both conversations were very revealing and while the conversation with Meyers made me laugh, the one with Biden brought me to tears.
Follow us on Twitter!
Here's a look at what we were tweeting this week:
.@OnCampusWGBH is launching an occasional hour-long show. Don't miss the pilot Sun., 6/18 for a look at the nature of free speech on campus.

— Kristine Maloney (@kristinemaloney) June 15, 2017
Welcome home, Otto. https://t.co/CStaE9xwyJ

— Erin A. Hennessy (@ErinAHennessy) June 14, 2017
Make to-do list was looming large on my to-do list today, so I'm feeling pretty accomplished right about now. #crushedit

— Ali Lincoln (@AliLincolnTVP) June 12, 2017
Glad immigration fears are not stopping international students from coming to Massachusetts to study @KatMcKiernan @bostonherald https://t.co/itScMJVNYJ

— Cristal Steuer (@CristalSteuer) June 14, 2017
Excited to hear from the creators of socially impactful television– hoping to pick up some storytelling tips. #ATXtvs6 pic.twitter.com/VeeRVqBQzT

— TeresaValerioParrot (@tvparrot) June 10, 2017
For all of the latest news and media successes from TVP Communications, follow us on Twitter.