My husband has been reading the Harry Potter series aloud to our unborn child so that she'll be familiar with his voice (and love Harry Potter immediately), and I had a major revelation this week—well, a double revelation, actually. Sirius Black can turn into a dog, and Sirius is the name of the brightest star in the Canis Major constellation! (I see what you did there, J. K., very clever.) And this led me to realize that the dog days of summer are not actually when it's so hot that it's miserable to be a fur-covered dog (or cat, as mine is currently fully outstretched on his back under a fan trying to keep cool).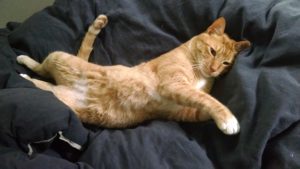 Instead, the dog days are actually when the Sirius star (from the dog constellation) is aligned with the sun; the ancient Romans thought it added extra heat and made July and August miserable. I feel like at some point, my high school Latin classes should have given me a heads up to my misunderstanding. My mind is still reeling, but it's absolutely worth it to Google dog days of summer images to see hilarious pictures of dogs trying to beat the heat.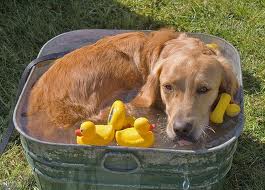 And once you've recovered from the cuteness, scroll down to catch up on the week's happenings in the higher ed world.
What's new this week:
Congrats to W. Kent Barnds, executive vice president and vice president of enrollment, communication, and planning at Augustana College, who was prominently featured in a Chronicle article on the pressure of college jobs.
USA Today College ran an article about the student who blew through $90,000 of college funds in three years, and included expertise from Mary Johnson of Higher One and data from the company's 2015 Money Matters on Campus report.
The three-week beer industry class at Farmer School of Business truly does teach students valuable business lessons. The class was featured in The Conversation and Fortune this week.
Drake University's Professor Jeff Kappen profiled the markets of the Middle East for Academic Minute.
NASPA President Kevin Kruger weighed in on the D.C. sexual assault bill for the Washington Post's Grade Point blog.
What we've been talking about:
This week on the Inside Higher Ed's Call to Action blog, Kristine Maloney warned that censoring student journalists is risky, and bad relationships with these student reporters is a bad idea for colleges and universities.
What we've been reading:
Teresa Valerio Parrot
With a daughter entering high school, our family is talking through the cost of college in just four years. In reading this article, I was yet again saddened that Savannah's owl to Hogwarts didn't come two years ago. Who would have thought that the Ministry of Magic could figure out how to make an education free but we haven't yet? Perhaps the Department of Education could use a little magic.
This week the American Council on Education released a report entitled "Race, Class and College Access." It's an important report, as it  "examines contemporary admissions practices at four-year colleges and universities across a wide range of selectivity in the context of recent legal challenges to race-conscious admissions, including the pending U.S. Supreme Court case Fisher v. University of Texas at Austin. The report offers insight into evolving practices institutions employ as they seek to further access and diversity." If you need a vacation read, add this report to your fiction selection. 
Kyle Gunnels
The New Yorker is always a place I turn to for a good read, especially captivating stories about things I wouldn't normally think to read about or research. I'm not sharing this one because of its doomsday factor, but because it's such a captivating piece that details a lot of science behind seismology. The centerpiece of the story is that an earthquake will destroy a sizable portion of the coastal Northwest—but we don't know when.
I like lists and books—and this is a great list of books from NPR Education. I wasn't required to read any books before I arrived at college, but this is a good rundown of what students at some institutions across the country are asked to read before getting to class.
Erin Hennessy
Did you know (nerd alert!) that the Harvard Business Review site is offering full access for free during the months of July and August?!?! All you have to do is register and you can dive deep into the amazing resources they usually keep behind a paywall. Here are a couple of the pieces I've read so far this month: A Quick Guide to Avoiding Common Writing Errors, How to Fall Back in Love with Your Job, and perhaps most important at this time of year, Get in the Right State of Mind for Vacation. Enjoy!
Last week Pluto was all the buzz, but how much time did you spend thinking about the strategy behind NASA's social media rollout of New Horizons' amazing photos? Probably none. Me too. And then I found this WIRED piece, which surfaced some interesting information—I had no idea that government agencies negotiate their own terms of service agreements with social platforms like Instagram and gave no thought to the idea that the company would be making money off the sharpest images ever of the dwarf planet.
Kristine Maloney
Pluto's time in the spotlight didn't last long. (Seriously, Pluto never catches a break.) This week's space news is all about Kepler-452b, a planet NASA astronomers are calling "Earth 2.0." I'm not sure I would have clicked on it if I hadn't been caught up in the Pluto coverage, but it was a fascinating read.
And I have imagined plastic-paved roads many times. The only thing this product needs is a built-in heat element to melt snow and ice on contact.
Ali Lincoln
I had a very intellectual week! After Erin showed the team the Trump insult generator, I needed a little pick-me-up and turned to good old Parks and Rec and Leslie Knope for a compliment.
While I've never used Tinder, I am always hunting for a great date, preferably one that is bacon-wrapped or stuffed with a soft cheese. So the new app Tender, hailed as Tinder for Food, caught my attention. First of all, they had me at the punny name, and second, why yes, I would love a personalized cookbook! I'm going to give it a try and report back on my "swipe right" experiments.
Follow us on Twitter!
Here's a look at what we were tweeting this week:
.@FLOTUS focusing on #firstgen students today at the @WhiteHouse. Link to live stream below. #highered https://t.co/OUnfGJIN7I

— Erin Hennessy (@ErinAHennessy) July 23, 2015
Not a problem @TVPComms, but still interesting. Why you should really be nicer to your colleagues http://t.co/gwYbYmiadh @US_conversation

— Kristine Maloney (@kristinemaloney) July 22, 2015
Confession: I didn't do my first year reading. Adding some of these to my list to make up for it. https://t.co/0squFkNI6x

— Ali Lincoln (@AliLincolnTVP) July 22, 2015
Shake my head when people spend more time clarifying their remarks than building momentum on their original words. Words and intent matter.

— TeresaValerioParrot (@tvparrot) July 18, 2015
"Campaign of Deception Against Planned Parenthood" obvious takeaway: politicians saying 'defund' don't care ab truth http://t.co/7cD2Mk0Wbi

— Kyle Gunnels (@kgunnels) July 22, 2015

For all of the latest news and media successes from TVP Communications, be sure to follow us on Twitter.