Even though we had to move our retreat to next week, our team made it through the Blizzard of 2015 safe and sound (though as I type this on Friday morning, it is snowing AGAIN in Massachusetts).
Some of us were buried under three feet of snow…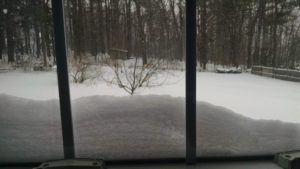 Some of us were jealous of the enormous amount of snow…


And some of us inspired envy with a 70-degree day in January…
 


For non-weather related updates from our team, read on.
What we've been talking about:
Higher education and sexual assault made an appearance at the Sundance Film Festival this year—and just about everywhere else, too. Erin Hennessy offered tips for preparing college leadership to weigh in thoughtfully in the conversation.
After the NFL Media Day and with the Super Bowl coming, Teresa Valerio Parrot pulled out some lessons for higher ed from Marshawn Lynch. Plus, she really wants to make Beastmode catch on.
What we've been reading:
Erin Hennessy
So at this moment (Thursday 1/29/15 at 2:22 PM ET) there are three higher ed related stories featured on the top third of the New York Times homepage: one on the Dartmouth president's speech this morning, one on sexual assault and fraternities, and one on President Obama's doomed plan to tax 529s. Pretty good indicator of what people are thinking about higher ed right now, and what higher ed is worried about right now.
Kyle Gunnels
Technically this article was released last week, but I'm reading it this week—Times Higher Education's list of the 100 most international institutions in the world for 2015. I thought this piece from NPR on competency-based degrees was pretty interesting as well.
Teresa Valerio Parrot
As someone who works in higher education and is the mother of a soon-to-be high school student, this piece caught my eye. And, as a science-lover, this study by the Pew Research Center gave me great pause.
Kristine Maloney
This is really big news in our house. Truly though—I found this article particularly interesting.
Ali Lincoln
I've said it before, I'll say it again, all day every day until I die: English majors are what's up. Reading good books for college credit was one of my smartest moves in life. So this article made me sad (and got that Paula Cole song stuck in my head). This was also an interesting read in The Atlantic, and a fun title to boot. And I loved this admissions article—just the warm and fuzzy I needed for the blizzard!
Follow us on Twitter!
Are you following the TVP Communications team on Twitter? Here's a look at what we were tweeting about this week:
Happy #AustraliaDay, everyone!!

— Kyle Gunnels (@kgunnels) January 26, 2015
Costly in every sense of the word! Botching Sexual-Assault Complaints Is Costly, Study Finds http://t.co/PFvp7v9oHg via @chronicle

— Kristine Maloney (@kristinemaloney) January 28, 2015
Obama Relents on Proposal to End '529' College Savings Plans http://t.co/SxGfXLH5VF

— Ali Lincoln (@AliLincolnTVP) January 28, 2015

For all of the latest news and media successes from TVP Communications, be sure to follow us on Twitter.