Happy National Donut/Doughnut Day! All day long, you can find free or semi-free pastry treats available for your eating pleasure at various participating doughnut retailers. Looking for the skinny on where to find your free doughnut? Check here or look up your local shop on their preferred social media platform—looks like I'll be making stops at Dunkin' Donuts, Duck Donuts, AND Emily's Donuts & Café. No judgment on doughnut day, right?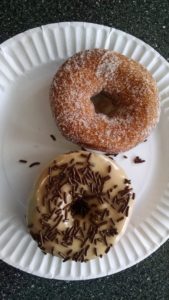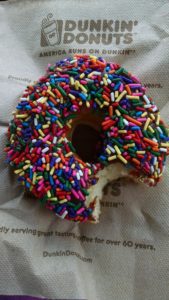 What's new this week:
This fun piece in US News & World Report included some financial advice from Drake University's Tom Delahunt.
AASCU's spring 2015 edition of Public Purpose included a piece on partnerships between colleges and communities from Dr. Jonathan Gibralter, president of Frostburg State University and president-elect of Wells College.
According to education professor Linda Banks-Santilli of Wheelock College, guilt is one of the biggest struggles that first generation college students face. Both The Conversation and The Washington Post ran her article this week.
Caitlyn Jenner made quite a debut in the media this week, and Drake University professor Renee Cramer's piece on the cultural shifts behind Vanity Fair cover photos of Caitlyn Jenner and Demi Moore appeared in The Conversation and The New Republic.
What we've been talking about:
Congratulations are in order! Last weekend, Drew University recognized Erin Hennessy as the recipient of the 2015 Alumni Service Award for her many contributions to her alma mater.
Can you believe it's already been a year since Ali Lincoln joined the team? Read her 12 biggest takeaways from her first 12 months at TVP Communications.
This week on the Inside Higher Ed's Call to Action blog, enjoy posts from guest blogger Paul Redfern, executive director of Communications and Marketing at Gettysburg College and our very own Kristine Maloney.
Teresa Valerio Parrot weighed in on a Chronicle piece on the decision to reinstate football at the University of Alabama at Birmingham.
What we've been reading:
Kristine Maloney
This Bloomberg Business piece about the tech boom in India and the American-educated engineers who are leaving the U.S. to start and run businesses in their home country grabbed my attention. This quote from an Indian businessman summed up the story for me:  "'While I was in college, I was repeatedly exposed to this phrase: 'U.S. is nothing without us. It was a moment of clarity that hit me. If everyone is going to go to the U.S., who is going to make us?'" It really made me think—what does the future look like here, who is going to build it and what will universities need to provide to ensure America stays near the top?
I also found this Forbes piece about the rise of the liberal arts in Asia really interesting. Personally, I'm a huge advocate for the liberal arts, so it's always fascinating to me to see where they are thriving and why.
Erin Hennessy
This Washingtonian Magazine piece about the transportation revolution that is taking place in my city is riveting. It examines the impact services like Uber, Instacart, Peapod and Amazon same-day delivery have not just on HOW we live but WHERE we live, making neighborhoods that suffered from a lack of grocery stores or Metro stations suddenly much more livable.
Do I need to consider changing the way I sign my emails? According to this Bloomberg piece, yes, my "best" is the utter worst. The piece argues for not signing emails at all, which I just can't get behind, because I'm terribly old and formal. Fine. Just don't make me use "warm regards."
Ali Lincoln
Love took quite a hit in my readings this week. I finished up Emma Straub's The Vacationers and Sylvia's line "At a certain age, people should get over the idea of being in love" broke my heart. What a wretched sentiment! And then news of Paris ripping out its famed love locks was also unsettling—sure, they're a safety hazard and probably ugly to look at, but it's Paris! The city of love!
I'm missing having a yard to putter around in this year—a garden is one of my favorite places to be. I just do it because I like flowers and fresh vegetables, but it turns out that I'm harvesting some extra benefits, too.
And finally, something related to higher ed, I loved Bill Gates' blog post about needing a college degree. I wish he had written it when I was advising college students—sometimes, students who were down and out would talk about leaving college and making it big in fashion, entertainment, sports, or tech and would say, "look at all of these millionaires, they don't have degrees." For most, it was a moment of frustration rather than a real plan, but I did have one or two stubborn kids who unfortunately ended up dropping out. So stay in school, kids: not only is Bill Gates a genius who worked incredibly hard to produce original, unique work, he also admits that he got lucky.
Teresa Valerio Parrot
This week the Supreme Court ruled on the case of a man who was convicted for threatening his wife's life by posting rap lyrics on Facebook. In the end, "The Court said that it wasn't enough to convict the man based solely on the idea that a reasonable person would regard his communications as a threat." I'll continue to follow the aftermath of the case just in case there are implications for campus social media policies. But the most interesting part of the case, personally, was the amici curiae brief authored by two professors on the history, meaning and often misinterpretation of rap. It's a long read, but a wonderful review of art's impact on and reflection of society.
Kyle Gunnels
This is a fascinating article that details the struggles faced by colleges and universities in places experiencing war, natural disaster and conflict. It is a stark reminder of how ordinary people are affected by the things we see on the news—basic things we take for granted in our higher education system, such as having a place to hold classes, can be wiped away with one bomb.
As discussed in this piece, a recent trend has seen many institutions expand overseas via satellite campuses or partnerships with foreign universities. There are many people on each side who will debate the merits of expansions and partnerships such as these, and the authors of this piece do a great job of exploring the why, where and what happened for several of these experiments.
Follow us on Twitter!
Are you following the TVP Communications team on Twitter? Here's a look at what we were tweeting this week:
Great read from @Lindsay_Stein @PRWeekUS "Ireland's tech scene strengthens as economy bounces back" http://t.co/YZrUebJ8qx

— Kyle Gunnels (@kgunnels) June 1, 2015
This guide to writing about trans people may be helpful as campuses seek to be more inclusive of the trans community. http://t.co/HN2BERbIdO

— Erin A. Hennessy (@ErinAHennessy) June 1, 2015
Make sure to read "What does a degree mean? It's hard to tell" by Jamie Merisotis @luminafound http://t.co/NYG2cqPp7v

— Teresa Valerio Parrot (@tvparrot) June 4, 2015
Wow! & take note. THIS is the level of gift getting media coverage. Harvard receives largest ever gift, $400 million http://t.co/mYCbRq5XHS

— Kristine Maloney (@kristinemaloney) June 3, 2015
Via @nytimes: Graduation gap is even wider than the enrollment gap for poor students: http://t.co/r6PfALuOq0

— TVP Communications (@TVPComms) June 3, 2015

For all of the latest news and media successes from TVP Communications, be sure to follow us on Twitter.