Remember all of the posts I made about the horrible winter in Massachusetts? For the record, the last bit of snow only very recently melted outside Boston. It truly was a miserable place to be, and I told myself I wouldn't complain about the heat and humidity at all this year (if it ever showed up). But then I moved to southeastern Virginia just in time for summer to start, and when people ask me how I like Virginia, my first instinct is to complain about the heat and humidity. In my defense, it was 118 degrees out when we moved into our new house…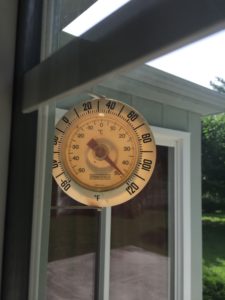 I know you're sick of me complaining about the weather, so go ahead and scroll down for some higher ed news.
What's new this week:
University of Wisconsin Colleges and University of Wisconsin-Extension Chancellor Cathy Sandeen weighed in on the potential merger of Wisconsin's two community college systems for an article on Inside Higher Ed.
Professor Renee Cramer of Drake University wrote for The Conversation on Planned Parenthood's latest controversies and what defunding the organization could mean for women in need.
Over on Inside Higher Ed's Call to Action blog, be sure to check out guest posts from Kevin Anselmo, founder of Experiential Communications, and Rachel Ruben, a thought leader and consultant in marketing and communications.
What we've been talking about:
Despite the fact that it feels like it just started, summer is coming to an end—back-to-school displays are everywhere and one of our team has already eaten a bag of candy corn. In an effort to embrace the academic new year, Erin Hennessy paused to reflect and figure out what's working well for her and what's not.
It seems harmless during a lull in a conversation to glance down at your phone, or reach for your laptop as you're lounging around, or browse on your tablet during your train commute. But all that screen time can lead to an addiction, and Kyle Gunnels decided that he needed to e-tox and give technology a break.
What we've been reading:
Teresa Valerio Parrot
Sometimes you need a week of happy stories and this week's news was willing to oblige. There was the story of the barber who gave free haircuts to children if they read him a story so that they could start a new school year with a new look. And the story of the community that came together to repaint an elderly gentleman's house after teens disparaged it. And finally, this clip of a walk-on student-athlete learning he was receiving a scholarship was just fantastic. Hope the clips gave you a smile, too.
I read this Buzzfeed article with personal interest. It talks about the trauma kids with parents in prison face and how Children of Promise is helping them to understand potential despite the life choices of their parents. My first elementary school bussed in classmates who had incarcerated parents and I remember some of their stories and understanding at an early age how lucky I was to have my parents. I hope the organization is successful in helping these kids through their PTSD and depression and they are allowed to be exactly what they are—kids.
Kyle Gunnels
Every now and then I read an article that combines an array of topics that normally wouldn't be covered in the same piece. This week, The Atlantic published an in-depth article—entitled The Coddling of the American Mind—touching on psychology, culture and higher education. It provides a spot-on assessment of campus movements growing across the US and how, even if rooted in noble intent, are disastrous for education and mental health.
Ali Lincoln
I found the two recent New York Times articles on teaching shortages and the profession's lack of appeal very interesting to read together. I know I am in the 40 percent of those who left teaching within five years, and I also went through an alternative credentialing program, but even briefly teaching gave me valuable insight into the education system in this country. I don't think I was necessarily meant for the classroom long-term, but my passion for education hasn't lessened, and I would love to see some of these overhauls to the teaching profession.
I've been trying to cram reading time for as many books as I can to get through my massive to-read pile that's looming near my bed, and I've been moderately successful this summer (though continuously adding new volumes isn't helping my efforts). This week, I finished up A God in Ruins, Kate Atkinson's companion piece to Life After Life; it was beautiful and heart wrenching and made me very aware of my own mortality. I also started Ann Patchett's essay collection, This Is the Story of a Happy Marriage, on loan from Erin, and I'm trying to read it slowly because it's my last unread book of hers.
Kristine Maloney
For years I was very content with the fact that I am a slow runner—jogger, really. But with two young children and less time to log more miles and feel like I was really giving myself a workout, I've started to look for more time efficient ways to keep in shape and reduce stress. This NYT story on a new high intensity running program that is billed as more "fun" than others caught my eye, and while I can't be sure how well it's working, it actually has been more fun than my same old slow jaunt around the neighborhood.
My husband and I don't necessarily agree on what age we should start our son in kindergarten. He's three now, so we have a bit of time, but "redshirting" is a frequently recurring topic of discussion in our house. (Interestingly, it's not a conversation we've ever had about our daughter, who will be starting kindergarten at age five in a few weeks.) My husband has provided me with many books and articles arguing his case, so I need to be able to share my side of the argument as well. While this article doesn't necessarily make our conclusion clear, it certainly gives us some interesting things to think about.
Erin Hennessy
This Buzzfeed story about a young woman enrolled at Dartmouth and fearing her unstable and persistent stalker is a terrifying one, but it was particularly interesting to read about how the leader of a pro-gun movement attempted to co-opt Taylor Woolrich's experience for his own gain.
A lot of what we think about hunger is just flat wrong. In most cases, it's not a matter of too many people and too little food. This Lucky Peach interview sheds some light on what it might take to end food insecurity in America.
Follow us on Twitter!
Here's a look at what we were tweeting this week:
Why a Global Education Doesn't Have to Mean Going Abroad https://t.co/2p4ARABQpO via @chronicle

— Ali Lincoln (@AliLincolnTVP) August 12, 2015
There was a time students could pay for college by working a summer job. Not so now. Not even close. via @anya1anya http://t.co/ePbNip4gP2

— Kristine Maloney (@kristinemaloney) August 10, 2015
You might be tired of me talking about being an #introvert in #PR but so much of this article resonated with me. https://t.co/jSfMXnxgum

— Erin Hennessy (@ErinAHennessy) August 12, 2015
USA: Land of Limitations? Spot on piece from @NickKristof. "Success is not a sign of virtue." http://t.co/C25vM5Y6RK

— Kyle Gunnels (@kgunnels) August 10, 2015
Have you submitted your proposal for the @NASPAtweets 2016 annual meeting? Here are tips for a winning submission: http://t.co/9urT2B5VNZ

— TeresaValerioParrot (@tvparrot) August 13, 2015
Recognizing demographic change is one thing. Responding is another. @etkeld on SHEEOs trying to meet student needs. http://t.co/JbG5XRVQKk

— TVP Communications (@TVPComms) August 11, 2015

For all of the latest news and media successes from TVP Communications, be sure to follow us on Twitter.