I enjoy traveling for business, probably because I don't do it too much and it still feels like a treat. I like seeing new places, spending time with my team and of course, trying out new restaurants. I also love the feeling of breezing through security with TSA PreCheck—I feel so important. But this week's trip really took a top prize in my book: a PEZ-stocked minibar. Kimpton for the win of the week.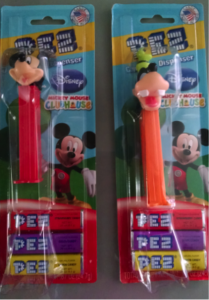 For higher ed wins this week, scroll down and click away.
What's new this week:
Drake University's vice president for admission and student financial planning Tom Delahunt offered expert tips for students reviewing financial aid packages in a piece for U.S News and World Report.
The Chronicle featured an article on student affairs administrators as excellent candidates for college presidents and included thoughts from NASPA president Kevin Kruger.
Congratulations to Higher One for a successful event this week! On April 2, Higher One and EverFi released the findings of its third annual Money Matters on Campus report and hosted a panel with financial literacy experts from K-12 and higher education. Coverage of the event and report appeared in several outlets, including U.S. News and World Report, MarketWatch, Politico, The Wall Street Journal and ACE's Higher Education Today, among others.
What we've been reading: 
Kristine Maloney
Boy, did this take me back! This was definitely my college experience and I am so, so blessed to still have my college friends in my life. Love this post.
This was the first I had heard of the PhD Project, an initiative created through accounting firm KPMG's foundation to increase diversity among higher education leadership. Though there is still a lot of work to be done in this area, the PhD Project has had some pretty impressive successes in their 10 years.
Kyle Gunnels
A long, but great read about a man who lost his phone in a NYC bar and ended up being a celebrity in China. Amazing how technology and social media can have such an impact.
Teresa Valerio Parrot
Moderating the NASPA panel on the aftermath of Hurricane Katrina struck such a personal note for me. Before 2013, I had no ideal of the damage water could cause, but epic floods in Colorado in 2013 taught me, and my neighbors, a very powerful lesson. Parts of my community are still rebuilding a year and a half later. For that reason, this article and the associated study caught my eye.
If you don't get goosebumps at least once while reading these social media wins (I had goosebumps multiple times and teared up), then I have a prescription for what ails you—two epic basketball games this weekend. I live in a divided home—Kev is cheering his home state Wildcats and I'm sticking with my Badgers. Wisconsin's players had me at "cattywampus."
Lastly, this NPR clip caught my attention. My daughter has never talked about college in a way that suggested she is only considering attending an institution in the United States. And she's not alone. This piece talks about the American students attending college in Germany for free. It's worth a listen.
Ali Lincoln
With a lot of plane, train and car time logged this week, I spent quite a bit of it reading good old fashioned magazines and books. I finally got to dig into the latest issue of Cooking Light—and I will be making these lemon squares ASAP. I also finished up The Potting Shed Papers and started The Master (both old, I know, but you should see the size of my to-read pile). I also can't wait for Erin Hennessy to return from her beach vacation so she can give me a full report of her latest book recommendations.
Follow us on Twitter!
Are you following the TVP Communications team on Twitter? Here's a look at what we were tweeting this week:
So relevant after my panel last week at #NASPA15 RT @hechingerreport: The lost children of Katrina – http://t.co/yXSNAAh1ZW

— TeresaValerioParrot (@tvparrot) April 2, 2015
#mmoc2015 as reported by @alliebidwell College Students Becoming Less Financially Responsible, Study Says http://t.co/MpbneZEajS via @usnews

— Kristine Maloney (@kristinemaloney) April 2, 2015
"Australia releases international education strategy draft" via @Sara_ThePIENews http://t.co/4XpgfiobTm #intled

— Kyle Gunnels (@kgunnels) April 3, 2015
Thanks for a great panel @becksup @moneythink @moneytalkmary @MizzouOFS @council4econed #mmoc2015 #finlit #finlitmatters

— Ali Lincoln (@AliLincolnTVP) April 2, 2015
Pushing pause on my vacation Twitter blackout to say YES, THIS! Student affairs —> presidency, from @_lee_g http://t.co/niKy1R1FZt

— Erin Hennessy (@ErinAHennessy) March 31, 2015

For all of the latest news and media successes from TVP Communications, be sure to follow us on Twitter.